YAMAMOTO HiNATA
Japanese

ヒナタ

Other Names

Yamamoto Hinata (山本ひなた), Monster Idol (モンスターアイドル), Hinata "Othello Tsuyoi" Undead (ヒナタ"オセロ強い"アンデッド)

Birthdate

April 2, 1997 (1997-04-02) (age 23)

Zodiac

Aries

Birthplace

Ibaraki

Bloodtype

B

Height

152cm

Professional Information

Audition Camp(s)
Years Active

2016 - 2020

Associated Acts

CDEAngel

Links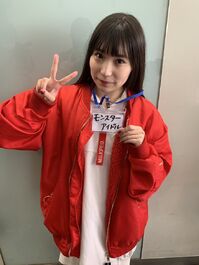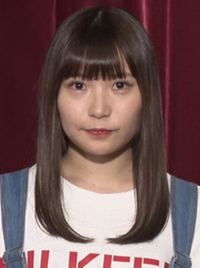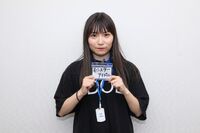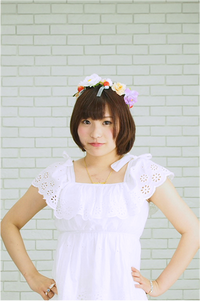 Yamamoto Hinata (山本ひなた), also known as just Hinata (ヒナタ), Monster Idol (モンスターアイドル) and Hinata "Othello Tsuyoi" Undead (ヒナタ"オセロ強い"アンデッド) is a Japanese former idol, a contestant on MONSTER IDOL and participant in the 2020 WACK AUDiTiON CAMP.
Prior to her tentative involvement in WACK auditions, she was a member of the group CDEAngel under her real name.
Yamamoto Hinata became a founding member of underground idol group, CDEAngel, on July 12th, 2015.
On March 10th, Yamamoto Hinata was fired from CDEAngel for various reasons, including not showing up to practises or lives, lying about being in a relationship, improper conduct on Twitter and getting unauthorized plastic surgery.
On December 14th, Yamamoto Hinata attended the 2018 SCRAMBLES Music College event Jigoku no Touki Koushuu (地獄の冬季講習; Hellish Winter Training) where she met Watanabe Junnosuke and Matsukuma Kenta for the first time while studying music theory and performance.
From November 6th, Hinata appeared on MONSTER IDOL, a segment on comedy show, "Wednesday's Downtown". She was eliminated in episode 4.
From March 22nd to 28th, Hinata participated in the WACK AUDiTiON CAMP 2020 under the name "Monster Idol". During her 1 on 1 interview with Watanabe, she stated that she felt she squandered her chance while on MONSTER IDOL and that she wanted to try again.
During her time in the 2020 AUDiTiON CAMP, Monster Idol became unpopular with the other contestants and audience for her attitude. She was difficult to work with, would force herself to cry when she didn't get her way and despite being given earnest advice on how to be more personable, she didn't change which she acknowledged during a speech where auditionees had to convince fans to vote for them.
On the 5th day, she attempted to ask Watanabe for advice but it turned into a small but heated discussion involving the two of them staring at each other without saying anything for a solid minute and Watanabe having to restrain himself from raising his voice.
On March 28th, Despite making it to the end of the audition camp, she was not promoted to any group during the closing ceremony. During her speech before the results were announced, she acknowledged that she hadn't changed much in 3 years of auditioning for WACK groups but no matter the result, she'll face that as whom she really is.
The following June, Hinata participated in the Project WACK-Chin Audition, using the name "Hinata "Othello Tsuyoi" Undead" (ヒナタ"オセロ強い"アンデッド; Hinata "Othello Strong" Undead). However, she failed to pass the public interview stage.
Her biography on the MONSTER IDOL TV promo website stated that she was unemployed at the time of filming.
Community content is available under
CC-BY-SA
unless otherwise noted.