The Sandman Will Keep You Awake - The Loop
Play Sound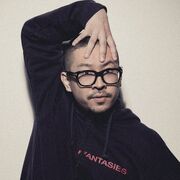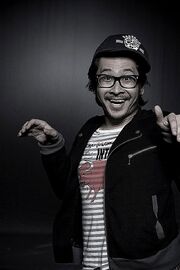 Watanabe Junnosuke (渡辺淳之介), better known as JxSxK (songwriting pen name) or simply Watanabe, is a Japanese record producer, lyricist, businessman and fashion designer. He is the founder and director of WACK, and the former vocalist of this is not a business and Beat mints boyz.
Biography
Watanabe formed his first band after dropping out of high school. He was confident in the band's success, however, it disbanded after the members discussed employment in the music industry.
After graduating from university, he found his first job in the music industry at the agency D-topia Entertainment, where he first met Matsukuma Kenta. He would later leave D-topia and join Tsubasa Records as a music producer. As part of Tsubasa, he was given the responsibility of managing and producing various acts, including Pour Lui and later, BiS. He was later added to SCRAMBLES, formed by frequent partner, Matsukuma Kenta.
In early 2013, Watanabe co-founded the band, this is not a business. He initially acted as their vocalist (the "first-generation Kato Kouban") until sometime after the release of their first digital single, WITH A MISSION, after which another vocalist took over the role.
After BiS disbanded in 2014, he left Tsubasa Records to form his own company, WACK.
In July 2015, following the departure of Kato Kouban, Watanabe took over as vocalist for This is not a business, claiming that he was actually the original Kato, and that the previous was merely the "second generation". He remained the vocalist of the band until the third-generation Kato Kouban joined on September 7th.
In April 2016, a biography about Watanabe and his work in the idol industry, Watanabe Junnosuke: Idol o Create Suru, was published.
In late 2017, Watanabe formed the unit Beat mints boyz with Matsukuma Kenta for the purpose of performing for the WACK & SCRAMBLES WORKS album.
Watanabe's fashion brand NEGLECT ADULT PATiENTS was launched in 2018, with the philosophy "ANTi ADULT". The brand is sold in WACK's MULTiPLE MANiACS store, which frequently holds pop-up events for various WACK activities and housed KiKA'S bar.
As of 2021, Watanabe's profile has been removed from SCRAMBLES' website, indicating that he may have left. Despite this, he still continues to closely work with them.
Personal Life
Although he attended one of the top secondary schools in Japan, he stopped attending school during his second year of junior high and dropped out entirely during high school.
He studied Political Economics at Waseda University.
His first time going abroad on vacation was in December 2019, when he visited the United Kingdom and Europe.
In late October, the tabloid Shukan Bunshun reported that Watanabe was having an affair with ZOC and former ANGERME member, Kannagi Maro. Both Watanabe and ZOC later confirmed the relationship and stated that Watanabe was long-separated from his wife and in the middle of divorce proceedings. As the reports came out in the lead-up to multiple collaborations with BiS and ZOC, it is debated by fans to this day whether the relationship was legitimate or staged.
Discography Featured In
Publications
Trivia
In addition to managing all current WACK idols, he also writes the lyrics to most of their songs.
While his public persona is frequently described as a "psychopath", many of his idols have said that he's nicer behind the scenes.
During the first generation of BiS, he had his own self-introduction like the group's members: "I'll punch out bad things and weird things!" (だめなこと、きてれつなことにパンチするんだ!; dame na koto, kiteretsu na koto ni punch surun da!). This is a reference to the catchphrase of D-topia idol group Harenchi☆Punch, with whom Watanabe and Matsukuma regularly worked during their time at the company.
Even though he's allegedly married, he's visited hostess clubs often and pretended to date some of his idols (most notably, Pour Lui, Coco Partin Coco and Toggy).
During WACK Audition Camp 2017, he got drunk and brought a woman back.
Is a fan of alternative rock, like Blur, the Sex Pistols and Japanese punk band The Yellow Monkey.
Will occasionally argue with people who post inflammatory things about his groups while drunk on Twitter. And while sober.