WOW!! Season
Album by MAMESHiBA NO TAiGUN
Japanese

WOW!!シーズン

Release Date

July 14th, 2021

Format

CD

Genre

J-Pop

Label

avex

Album Chronology
Previous
Next

N/A

Singles from WOW!! Season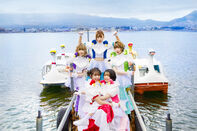 WOW!! Season (WOW!!シーズン) is MAMESHiBA NO TAiGUN's first major mini-album. It was announced on April 28th, and will be released on July 14th, 2021.
MAMEJOR! will be released in four editions:
CD-Only
CD + DVD
Limited Edition (CD + Blu-Ray Disc, 60-page photobook)
Kid's Edition (Recommended for ages 12 and under)
Mamesummer!? (まめサマー!?)
PUT YOUR HANDS UP
DEAD iNSiDE
Kimi to Mousou (君と妄想; You and your fantasies)
Mahou no Kotoba (魔法の言葉; Magic words)
LiVE Jitsuryoku wo Shikkari to Tsukeru Tour at duo MUSIC EXCHANGE(2021.01.10)
Document of Jitsuryoku wo Shikkari to Tsukeri Tour
ONLiNE EVENT Jitsuryoku wo Shikkari to Tsukeru 1-nichi (実力をしっかりとつける1日 ; A day to develop your skills)
HASHiRE MAMESHiBA Music Video
Mamesummer!? Music Video
Community content is available under
CC-BY-SA
unless otherwise noted.