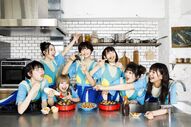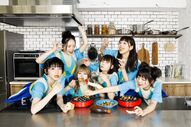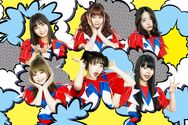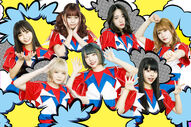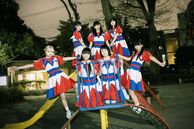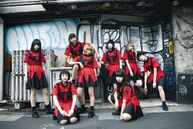 WAgg (WACK Egg) is the official trainee unit of WACK. The purpose of the unit is to train young girls with the intention of eventually debuting as part of a WACK group.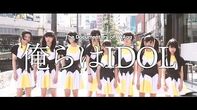 WAgg mostly performs covers of tracks by other WACK artists, as, until 2020, they had no original songs.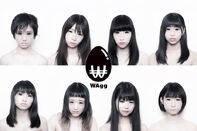 Members
Former Members
Promoted
Left
Marin Ba (Founding member, left June 16th, 2019)
Youdot.com (Joined March 2020, left September 2020)
Tsukino Usagi (Temporary member, joined December 2020, left June 27th, 2021)
Biography
2018
WAgg was officially announced on May 28th 2018, and auditions were held for girls aged between 12 and 17 years old, for the purpose of training and eventually debuting in WACK. The first members of the unit, Marin Ba, Uruu Ru, Utauuta, Anzupia, Naruhaworld, Love, Sayaito and Hanaemonster were announced on August 14th 2018. Much like the reveals of previous WACK groups, their eyes were obscured in their first teaser photos.
On September 8th, their faces were finally revealed, along with a short documentary film on YouTube. Their first live event was streamed on Niconico on September 9th, with BiSH performing as support. Afterward, they began their first joint tour with EMPiRE, "THE NEW RiCE".
2019
Starting from January 19th, WAgg began a series of regular oneman performances, named "WAggs", which took place almost every week, typically on weekends or holidays.
From the 24th to the 30th of March 2019, WAgg members were invited to take part in the WACK AUDiTiON CAMP 2019. All members except for Love participated. At the end of the audition, it was announced that Naruhaworld would debut in Gang Parade, making her the first promoted trainee. In addition, audition finalist Nayu would join WAgg. Naruhaworld's graduation took place on May 19th and Nayu began performing with WAgg a week later on the 26th.
On June 16th, Marin Ba left WAgg in order to concentrate on university entrance exams. Her final performance was live-streamed. Two days later, it was announced that Uruu Ru would debut in a new group, CARRY LOOSE. Her final performance with WAgg took place on August 25th.
On December 18th, Hanaemonster was promoted to the newly-formed WACK unit, MAMESHiBA NO TAiGUN and graduated from WAgg on December 30th.
2020
On February 8th, WAgg officially announced during ONAGAWACK that two new trainees, Ainastar and Kila May had been added, with their first performance taking place on the following Monday.
Due to restrictions placed on public events to prevent the spread of coronavirus, the regular "WAggs" weekend performances were forced to stop indefinitely after their February 23rd performance. All of their upcoming performances were cancelled as a result.
Once again, WAgg members were invited to take part in the WACK AUDiTiON CAMP 2020 from March 22nd to 28th. Utauuta, A Anzupia, Sayaito, Ainastar and Kila May all agreed to participate.
At the end of the audition, Kila May, who had joined just over a month prior, was promoted to PARADISES, and audition finalist Youdot.com was added to WAgg in her place. Due to Japan's restrictions on public events at the time, Kila May did not receive an official graduation ceremony and instead left WAgg via a Zoom call on May 23rd.
WAgg announced their first original song and music video, WAgg no Subarashiki Sekai, on June 12th. The song was made available to download for free.
On September 12th, Youdot.com left WAgg due to health complications.
During WAgg's Tokyo Idol Festival set on October 4th, it was announced that a member of WAgg would be promoted to PARADISES, and that an audition livestream for all members, PARADISES no Subarashiki Mirai, would be held on the 10th. In addition, it was revealed that any member of WAgg who does not debut within two years would be forced to leave.
On October 25th, Nayu went on indefinite hiatus from all activities due to a long-term foot injury.
As part of the PARADISES no Subarashiki Mirai audition, the remaining members of WAgg each participated on a solo version of PARADISES' song, PLEASE LISTEN TO MY, with streaming statistics from each track being partially used for determining audition results.
On December 14th, WAgg's first CD, WAgg to PARADISES no Subarashiki Sekai to Mirai was released exclusively at Tower Records. The CD incorporated the individual WAgg versions of "PLEASE LISTEN TO MY", as well as "WAgg no Subarashiki Sekai".
The PARADISES no Subarashiki Mirai audition ended on December 26th, where it was announced that Utauuta had been promoted to PARADISES. In addition, PARADISES member Tsukino Usagi would temporarily join WAgg for six months, and former CARRY LOOSE, BiS and EMPiRE member, YUiNA EMPiRE, would also join WAgg.
2021
Utauuta graduated from WAgg on January 3rd. At the same time, Tsukino Usagi and YUiNA EMPiRE performed with the unit for the first time.
From March 21st to 27th, A Anzupia, Love, Ainastar, YUiNA EMPiRE and Tsukino Usagi attended the WACK AUDiTiON CAMP 2021. This was the first audition camp with Love participating and Sayaito absent. Nayu, who had been on hiatus since September, also appeared at the camp's final day, although there was no statement made as to if she would be resuming activities after.
At the end of the camp, no trainees were selected to debut. Instead, it was announced that Ainastar would have to change her name to Unkostar for a month, and that camp finalist, Bell Nard, would join WAgg. Soon after the audition, A Anzupia went on hiatus from WAgg activities, due to a back pain that had caused her to withdraw from the audition camp early.
In mid-April, an update on Nayu's status was finally given; she would not return to WAgg, but would instead debut in a new group, ASP. Due to her hiatus and sudden joining of ASP, was not given an official WAgg graduation ceremony.
On June 4th, multiple announcements were given about the future activity of numerous WAgg members; Tsukino Usagi's trade period was ending, as was A Anzupia's hiatus. Tsukino Usagi would leave WAgg after their June 27th, performance, with Anzupia rejoining at the same event. In addition, Ainastar was to go on hiatus from WAgg effective immediately, in order to dedicate her time to studying.
Tsukino Usagi left WAgg on June 27th, in order to resume her activities with PARADISES.
On July 28th, it was announced that all active members of WAgg, except Bell Nard, were infected with coronavirus, and had to go on hiatus. Three days later, it was announced that Bell Nard had also been infected, making the entirety of WAgg quarantined. On August 8th, it was announced that all members had recovered, however, their August 14th live was cancelled in the interest of public safety. They resumed activities on the 21st.
2022
Following a six-month hiatus, Ainastar resumed activities with WAgg on January 10th. However, at the same time, A Anzupia went on another health break.
Discography
Singles
Digital Singles
Publications
Live Events
Trivia
Their name is a reference to Hello! Project Egg, the former name of Hello! Project's trainee unit. They used to wear egg-inspired costumes on stage.
Upon the announcement of the PARADISES no Subarashiki Mirai event and the 2-year debut limit, WAgg talked about how they wished to debut as one complete unit, however, Watanabe Junnosuke felt that this would not work.
Gallery
External Links