WACK is FxxK, WACK is SHiT, WACK is BEAUTiFUL
Welcome to the WACKi, a Wiki dedicated to all things WACK, and related artists. Made by WACK Slaves, for WACK Slaves!
This wiki has 927 articles since May 29, 2018.



(Want to help keep the WACKi WACKy? Here's some helpful templates to use when editing pages)
Artists
Articles
Recent WACK News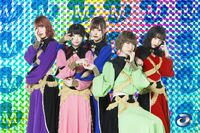 MAMESHiBA NO TAiGUN Announce Major Label Debut Under Avex
Today (August 5th), it was announced on Suiyobi no Downtown (the same television programme which broadcasted the MONSTER IDOL audition) that MAMESHiBA NO TAiGUN had signed with Avex (the same record company that manages BiSH and EMPiRE) and would release their major debut some time in October.
To co-incide with this announcement, a music video for the song
SAMABARi
has been published, and the song will be made available digitally on thr 6th.
Recent Releases
Amazon Japan | CD Japan | Ototoy | Spotify | Apple Music
Upcoming Releases
Affiliates
Upcoming Birthdays

August 14, Happy Birthday!

August 18, Coming Soon

August 20, Coming Soon
*As per WACK tradition, members whose real ages have not been revealed are listed as being 18 by default. Who knows how old they really are? ¯\_(ツ)_/¯
Recent music videos