WACKi is SHiT

Welcome to the WACKi, a Wiki dedicated to all things WACK, and related artists. Made by WACK Slaves, for WACK Slaves!
This wiki has 1,457 articles since May 29, 2018.



Artists
Articles
Random Members



Kamiya Saki (カミヤサキ) is a Japanese choreographer and former idol. She was the founder and leader of GANG PARADE, and a former member of BiS, being part of both the first and second generations.
Recent WACK News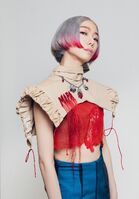 Koushouji Megumi starts new project
On September 25th, ex-BiS member Koshouji Megumi announced that she would resume entertainment activities under the name "Koshouji Emi", and has joined a new project named MAPA. Koshouji had been on hiatus from entertainment since her previous group, Maison book girl (formed upon BiS' first disbandment in 2014) had disbanded in May.
MAPA will officially debut on October 2nd during Tokyo Idol Festival, and is the sister group to the unit, ZOC.

PEDRO to go on indefinite hiatus
PEDRO, the rock band fronted by BiSH's Ayuni D, announced on September 7th that they would go on indefinite hiatus in December this year. The reason given was that Ayuni needed time to recharge. Next month they will begin their farewell tour, SAYONARA BABY PLANET TOUR, and ultimately conclude activities with a concert at Yokohama Arena, Sasurahi.
Announcement
Recent Releases
Amazon Japan | CD Japan | Ototoy | Spotify | Apple Music
Bold rows are official WACK releases. Unbolded rows are WACK-affiliated (former members/staff) releases
Upcoming Releases
Affiliates
Upcoming Birthdays*

September 26, Happy Birthday!

September 27, Coming Soon

September 28, Coming Soon

October 5, Coming Soon
*As per WACK tradition, members whose real ages are unknown are stated to be 18 by default. Who knows how old they really are? ¯\_(ツ)_/¯
This Day in History
Latest Music Videos