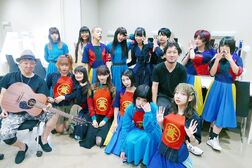 WACK presents DREAMLIGHTS in TIF is an event held on August 4th, 2018 and 2019. It is a special stage at the prolific Tokyo Idol Festival, featuring almost all current WACK artists. While WACK acts had performed at Tokyo Idol Festival before, it wasn't until 2018 that WACK had this dedicated stage.
The first DREAMLIGHTS in TIF took place on August 4th, 2018. The performance consisted of the shuffle units SAiNT SEX and HOLY SHiTS, with Aina The End and Yui Ga Dockson performing solo sets.
Featured Members
Edit
Soloists
Edit
SAiNT SEX
Edit
HOLY SHiTS
Edit
In July 2019, it was announced that DREAMLIGHTS would be returning for a second year. The event will take place on August 4th and will feature BiSH, GANG PARADE, EMPiRE, WAgg and is the debut live of BiS (3rd Generation). A song featuring all members of WACK at the time, titled "WACK is BEAUTiFUL (this is love song)" was also recorded for the event.
Featured Members
Edit
GANG PARADE
Edit
Community content is available under
CC-BY-SA
unless otherwise noted.