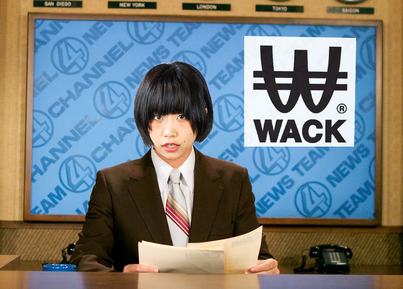 Welcome to the WACK news page! This is where we archive all the WACK-related news previously published on the front page!
Please note, as the WACKi started in late May 2018, no news prior to this date will be shown. An alternative you can use is the WACKi's Yearly Summaries!
Newer WACK news is available on the front page.
November
Edit
September
Edit
[2019.05.31] Peri Ubu will hold a photography exhibition, "Re:nostalgic", from July 16th to 18th.
[2019.05.31] PEDRO's first full-length album, THUMB SUCKER, will be released on August 28th.
[2019.05.11] BiS Officially disbands, roundup of the member's futures:
[2019/05/01] Can GP Maika will feature on GHOST ORACLE DRIVE's insert song, "Fly High", for the GOD EATER pachinko game.
[2019/04/18] Aina The End will perform the ending song for the "Mobile Suit Gundam THE ORIGIN Zen'ya Akai Suisei" anime.
[2019/04/03] GANG PARADE will provide the theme song, "Hontouni Boku ga Ikitakatta no wa Konnan ja mu e!", as well as three additional insert songs, for the Magicami PC game.
[2019/03/23] EMPiRE will release a new single in July. The single implies a change in sound and image.
[2019/03/04] Following EMPiRE's 24 hour party, BiS will hold a 69 hour party from the 18th to 22nd March.
[2019/03/03] BILLIE IDLE®︎ will release a new single on May 22nd.
February
Edit
[2019/02/19] The upcoming BiS single Are you ready? will be used as the ending theme for the Yu-Gi-Oh! VRAINS!!!! anime.
[2019/02/07] Aina The End will feature on the DISH song "SING-A-LONG", from their new album, "Junkfood Junction".
[2019/01/29] YUKA EMPiRE will graduate from EMPiRE and WACK at EMPiRE's 24 hour live on March 4th.
[2019/01/23] BILLIE IDLE®︎'s new single, Soshite, Mata.., has received a pre-release on most digital platforms. It will receive a general release on February 6th.
[2019/01/19] Moe and Asaka will graduate from Wagamama Kiite?? in March. Asaka will graduate at her birthday event on the 6th, with Moe graduating 10 days later.
[2019/01/15] BiSH will feature on a Tokyo Ska Paradise Orchestra tribute album, covering "Kanaria Naku Sora"
[2019/01/12] Pierce will receive a limited pre-release on iTunes tomorrow at 12am JST.
[2019/01/10] GANG PARADE will release their first major single on April 17th, under Warner Music Japan.
[2019/01/09] A WACK-wide photobook, IDOL, will be released on February 13th.
[2019/01/08] BiSH will release a new digital single, Futarinara, on January 30th. The lyrics were written by Aina The End and it will be the opening theme for the anime "3D Kanojo Real Girl".
December
Edit
[2018/12/29] The BiS.LEAGUE system has been announced to end, and a single with all 10 members of BiS will be released in March. However, due to poor BiS.LEAGUE rankings, Toriaez Hana, Muropanako, YUiNA EMPiRE, Aya Eightprince and Nel Nehru have been designated to be removed from BiS. A descicion regarding their future will be made after the release of the March single.
[2018/12/18] BiSH have won Best Newcomer at the Japan Record Awards.
November
Edit
[2018/11/18] Yuuki has won a Miss iD award for "Fabulous Existence of questioning gender roles"
[2018/11/15] BiSH have been nominated for "Best Newcomer" in the Japan Record Awards.
[2018/11/13] WACK's first joint tour, "Going Going WACK" tour, has been announced. There will be a total of 23 stages in 17 cities with the tour finale being held on March 17th.
[2018/11/12] BiSH will feature on the "Fist of the North Star 35th Anniversary Album "Lore"", released on January 16th, 2019.
[2018/11/12] The voting for the November-December BiS.LEAGUE election has officially begun.
[2018/11/10] EMPiRE will release their debut single in February.
[2018/11/08] The music video for Stereo future has been posted on YouTube. In addition, the title track has been released early on iTunes.
[2018/10/26] Aina The End will release another solo song on the 29th.
[2018/10/12] The Nakayama Yukiko-produced idol group has revealed its lineup and name, Kimi no Mawari. They will hold a free debut live in Shibuya on November 2nd.
[2018/10/02] AiNA THE END, LiNGLiNG, AYUNi D, AYA EiGHTPRiNCE, PERi UBU, MEWCLUB, Kamiya Saki, Coco Partin Coco, Terashima Yuuka, MiDORiKO EMPiRE, MiKiNA EMPiRE and URUU RU will be representing Watanabe's fashion brand, NEGLECT ADULT PATIENTS, at Amazon fashion week.
[2018/10/01] AiNA THE END to provide guest vocals on the track "2 FACE" on the upcoming MY FIRST STORY album, "S.S.S".
September
Edit
[2018/09/18] AYUNi D has launched a solo project under Avex called "PEDRO". Her debut album, zoozoosea, has already been released in record stores guerilla-style. Avex have posted a music video for Jiritsu Shinkei Debarinaka.
[2018/08/29] BiSH will release a new single this Winter.
[2018/08/27] Former WACK Audition Boot Camp Finalist Yuuki features in HAMIDASYSTEM's music video for Invisible Movie.
[2018/08/26] EMPiRE have released a music video for S.O.S. In addition, EMPiRE Originals has been released on Japanese iTunes ahead of its general release.
[2018/08/14] The first generation of WAgg has been announced. They will hold their debut live in September.
[2018/08/09] CY8ER release music video for Kataomoi Wazurai.
[2018/07/27] Former SiS member Bug Me is taking part in Miss iD 2019.
[2018/06/26] BiSH unexpectedly drops a CD and music video for NON TiE-UP.
[2018/05/29] Hello! You've reached the beginning of the WACKi! For more WACK news, please look at our various articles!
Community content is available under
CC-BY-SA
unless otherwise noted.