The Sandman Will Keep You Awake - The Loop
Play Sound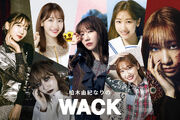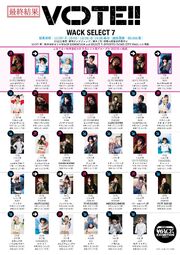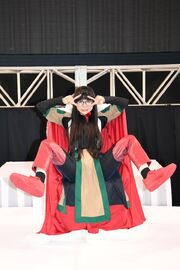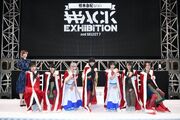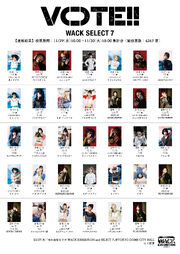 VOTE! WACK SELECT 7 was an all-group election held by WACK and AKB48 member Kashiwagi Yuki, taking place from November 29th to December 26th, 2021. Kashiwagi featured in seven singles, each with one of the seven main WACK units at the time (BiS, BiSH, GO TO THE BEDS, PARADISES, EMPiRE, MAMESHiBA NO TAiGUN and ASP), which were subject to a popular vote to determine the line-up of SPY, a shuffle unit produced by Kashiwagi.
History
After having previously produced her single, CAN YOU WALK WITH ME??, WACK's CEO Watanabe Junnosuke appeared in a video posted to Kashiwagi Yuki's YouTube channel on April 9th, 2021. In the video, Kashiwagi and Watanabe announced that she would temporarily join all seven main WACK units and release a single with them. The following week, she was given the stage name "Yuki Reysole", which she would use while working with these groups. However, the name was eventually dropped and she continued to be referred to as Kashiwagi Yuki afterwards. In the weeks after, videos were posted to her YouTube channel every week, showing her being introduced to each WACK unit, as well as some information from Watanabe and Matsukuma Kenta on the single's production.
An update to the collaboration was given on May 15th, listing the titles of each single as well as the news that each of the songs would be released simultaneously on August 30th. However, the following month, Kashiwagi Yuki was diagnosed with Syringomyelia, and the collaboration was put on hold while she received surgery. After recovering, the singles were postponed three months to November 30th.
October 8th saw a big update to the collaboration, with the decision being made that a popular vote among WACK's current members would be held, in a similar vein to AKB48's general election, or past WACK elections like the WACK General Election 2017 and BiS.LEAGUE. The poll was named "VOTE! WACK SELECT 7" and voting tickets would be included with each of the singles that Kashiwagi would feature in. In addition, a set consisting of all seven singles, a blu-ray and poster signed by Kashiwagi and all WACK members will also be released. The top seven members as voted by the public would then be placed in a new shuffle unit that Yuki would produce. The results would be held on December 27th, at a concert held by Kashiwagi Yuki named Kashiwagi Yuki Nari no WACK EXHiBiTiON AND SELECT 7.
November 29th marked the beginning of the VOTE! WACK SELECT 7 election. While the official release date for the corresponding singles was set to be the following day, some stores already had the CDs in stock ("furage"). Early that same day, seven compilation videos (one per group) containing campaign speeches from all members were uploaded to Kashiwagi Yuki's YouTube. The compilations featured short clips from each participating member of that group explaining why fans should vote for them in the election (for example, the dedicated ASP video consisted of three separate campaign speeches by Yumeka, Nameless and Mog Ryan). Later in the day, Watanabe announced on twitter the official start of the election, and promised further news the following day.
Preliminary results released after the first day of the election showed Tsukino Usagi and Yamamachi Miki in the lead. That same evening, Kashiwagi toured in an election vehicle alongside Watanabe, NOW EMPiRE and MAYU EMPiRE to the singles and encourage fans to vote.
On December 2nd, popular magazne Young Jump published a digital photobook about the election, VOTE!! WACK SELECT 7. In their main magazine, they also published an article about the election, and a gravure shoot with Kashiwagi.
The night before the results came out, Watanabe admitted on twitter that he had personally rigged the vote by purchasing 10,000 copies himself. He didn't reveal which members he had voted for, however, apologized to Coco after she thanked him, hinting that she was not one of them.
As promised, the final election results were announced at Kashiwagi Yuki Nari no WACK EXHiBiTiON AND SELECT 7 on December 27th. At the beginning of the vote, Watanabe admitted that he has used all 10,000 of his votes on one member, Yui Ga Dockson. The top seven selected members were announced as:
Although Yui Ga Dockson had previously only ranked 27th in the preliminary results, Watanabe's additional votes meant that Dockson had jumped up to 1st place. Kashiwagi Yuki expressed confusion at this outcome while Dockson performed an impromptu cover of Queen's "We Are The Champions" onstage.
Afterwards, Watanabe made an additional announcement that he would randomly select three members who ranked from #22 to #34 for an additional shuffle unit. He proceeded to pull three names from a box, revealed to be Lingling, YU-Ki EMPiRE and Nameless. The three then joined a group pre-emptively called WACK no Kuso Unit (WACK's shitty unit), who would perform the B-Side to the winner's eventual single.
The name of both units, SPY and INNOCENT ASS, were announced on March 23rd, 2022.
Singles Released As Part Of The Vote
Publications
Featured Members (Final Ranking)
Yui Ga Dockson (10,708)
Tsukino Usagi (5114)
Terashima Yuka (4545)
Hashiyasume Atsuko (4295)
Yamamachi Miki (3692)
Yumeno Yua (3645)
Cent Chihiro Chittiii (3446)
Aika The Spy (3287)
Coco Partin Coco (3153)
Aina The End (3152)
Can GP Maika (2971)
MAHO EMPiRE (2930)
Momoko Gumi Company (2485)
Nao Of Nao (2473)
Yumeka Nowkana? (2012)
Miyukiangel (1938)
MiKiNA EMPiRE (1938)
Ayuni D (1813)
Neo Trees (1501)
Changbaby (1445)
Ca Non (1445)
Lingling (1314)
MAYU EMPiRE (1297)
Chantmonkee (1259)
YU-Ki EMPiRE (1258)
MiDORiKO EMPiRE (1252)
Ito Musensiteebu (1032)
NOW EMPiRE (1003)
Hanaemonster (893)
Kila May (817)
Kaedephoenix (762)
Toggy (604)
Nameless (546)
Mog Ryan (540)
Ineligible Members
Members' Campaign Videos
Trivia
Although the election took place during the all-member trade period between GO TO THE BEDS and PARADISES, each member was credited to their group prior to the trade, and the singles feature the original pre-trade line-ups.
The decision to choose the seven most popular members could either be a reference to the number of WACK units, or a reference to Yuki's main group, AKB48, who decides members for certain singles through a senbatsu election. Although the total amount of selected senbatsu members is usually 21, most of the publicity is given to the top 7 most voted for members, referred to as "Kami7". Kashiwagi Yuki herself was part of Kami7 from 2011 to 2016.