UTAUUTA
Japanese

ウタウウタ

Other Names

Yui ga Jackson (ユイ・ガ・ジャクソン)

Birthdate

June 3rd

Zodiac

Gemini

Professional Information

Group
Audition Camp(s)

WACK Audition Camp 2018
WACK AUDiTiON CAMP 2019
WACK AUDiTiON CAMP 2020

Years Active

2018-present

Links

WAgg Information

Date Joined

August 14th, 2018

Date Left

January 3rd, 2021

Debut Release
Final Release
Time in Group

2 Years, 5 Months, 3 Days

PARADISES Information

Date Joined

December 26th, 2020

Debut Release

PLEASE LISTEN TO MY + Utauuta ver.

Time in Group

0 Years, 0 Months, 22 Days
Utauuta (ウタウウタ) is a Japanese idol under WACK, as part of PARADISES and WAgg.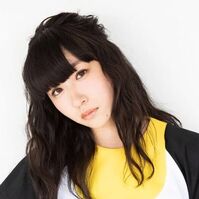 From March 12th, Utauuta took part in the WACK Audition Camp 2018 under the name "Yui Ga Jackson". However, she was eliminated on the first day without being offered a redemption challenge. Soon after, she auditioned for WAgg.
On August 14th, Utauuta was revealed as one of the first eight trainees to join WAgg.
From March 24th, Utauuta participated in the WACK AUDiTiON CAMP 2019. On day two, she was eliminated for a second time after losing a game of Daifugo.
From March 22nd, Utauuta took part in the WACK AUDiTiON CAMP for the third year in a row. She was eliminated on day three after failing to do the most squats.
On June 12th, Utauuta's first digital release, WAgg no Subarashiki Sekai, was published.
From October 10th, Utauuta participated in the PARADISES no Subarashiki Mirai audition. As part of the audition, she featured on their digital single, PLEASE LISTEN TO MY, in an individual solo version released on November 14th.
Utauuta was eliminated from the PARADISES audition on December 13th, after failing to earn all four required stars needed to progress to the final stage. However, she was offered a second chance, as the following day the single, WAgg to PARADISES no Subarashiki Sekai to Mirai, was released in individual member versions with a promise that any eliminated WAgg could return to the audition if their version sold the most copies. Utauuta's solo version of the single ultimately sold the most copies, and was therefore allowed to return to the audition in time for the audition's final results ceremony on December 26th.
During the results ceremony, it was announced that, despite having been previously eliminated, Utauuta had ultimately won the audition and would be promoted to PARADISES.
Utauuta will graduate from WAgg on January 3rd, and start activities with PARADISES on January 30th.
Community content is available under
CC-BY-SA
unless otherwise noted.