Toto Partin Toto
Japanese

トト・パーティン・トト

Nickname

Toto-kamisama (トト神様)

Professional Information

Audition Camp(s)
Years Active

2020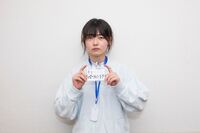 Toto Partin Toto (トト・パーティン・トト) was a finalist in the WACK AUDiTiON CAMP 2020.
Biography
Edit
Toto quickly became a fan favourite during the 2020 AUDiTiON CAMP, constantly ranking highest in the fan votes among the auditionees. Despite her low performance skill, Watanabe told her during an interview that he believes she could become a true star.
Toto was partnered with Cent Chihiro Chittiii a lot during the camp who struggled severely with trying to get her to come out of her shell and deal with her performances. Despite this, Chitti could regularly be seen comforting her when she was sad and talking to her outside of practise.
She was eliminated on day 4 after failing to do the most sit-ups. On her final day, a staff member wrote a note for her reminding her to always put her cutlery back on the tray in the dining hall when she's done eating and that they're very proud of her and want her to do her best. She responded by writing "thank you for the meal" in return.
Her audition name was a parody of Coco Partin Coco.
Japanese fans quickly took to calling her "Toto-kamisama" (Toto God) both on Nico and on Twitter.
Her phone is a Huawei P20
Community content is available under
CC-BY-SA
unless otherwise noted.