The Sandman Will Keep You Awake - The Loop
Play Sound
Sui sui are an Osaka-based idol group formed in 2019.
Former second-generation BiS member, Gamiya Saki, joined the group in 2021 under the name Sharaku Yuuki.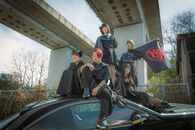 Each member has a number assigned to them.
Current members
Nekoto Ayana (005)
Sharaku Yuuki (006) (Joined March 2021)
Tsukimi Aoi (007) (Joined March 2021)
Amari Kazune (007) (Joined March 2021)
Former Members
"Candidate 002" (Left March 2019)
Komichi Anna (003) (Left July 2020)
Takao Mio (004) (Left July 2020)
Nakiri Aki (001) (Graduated July 2021)
Biography
2019
Sui sui's formation was announced on February 16, 2019, following an audition that took place in December the following year. The name of the group and its founding members were disclosed at first, with the members only being referred to as "Candidate 001", "Candidate 002", "Candidate 003", "Candidate 004" and "Candidate 005", and the group itself known as "S.U.I SOUND WORKS".
On February 27, the group's name was revealed as "sui sui".
On March 15, Candidate 002 withdrew from sui sui without revealing her identity. The remaining members were eventually revealed on March 31 as Nakiri Aki, Komichi Anna, Takao Miko and Nekoto Ayana.
Sui sui released a self-titled digital single on June 17.
2020
Sui sui's second digital single, Kimitachi (2020 Ver), was released on March 7. It was followed by Kono Mama on May 16.
Komichi Anna and Takao Miko left sui sui on July 17.
2021
Sui sui released their only single as a two-piece unit, Myway, on February 7.
On March 1, sui sui announced three new members: Sharaku Yuuki, Tsukimi Aoi and Amari Kazune. Following the first performance by the new members, the group announced that they would release three monthly consecutive digital singles, starting with Kanjou Kaihou Sensen on March 13. It was followed by Soba ni Aru Mono in April. The final monthly release, SYMPHONY SYMPATHY, was delayed for a month, but eventually released on June 14th.
Nakiri Aki graduated from sui sui on July 31st.
On midnight October 17th, sui sui released a new digital single, Runner's High.
2022
Sui sui's debut album, THE SIGN, was released on January 29th.
On June 19th, they released the digital single, MONSTER BITE, followed by No complex on July 15th.
Discography
Album
Digital Singles