Shi(mo)motarou
Book by Lingling, Ainastar
Release Date

May 2021

Type

Fiction

Publisher

Storywriter

Catalogue Number

978-4-401-64573-2
Shi(mo)motarou is a book written by Lingling and Ainastar, and illustrated by Lingling.
The book is described as a "picture book for adults", and was based on a story Lingling and Ainastar wrote together during the WACK AUDiTiON CAMP 2021, that Lingling also drew illustrations for. The plot of the story is a parody of the Momotarou legend, and features the protagonist, Shimotaro, fighting demons with the help of his allies, Coco Partinco, Analhaworld and Cent Chihiro Chinchin.
Pre-orders for Shi(mo)motarou opened on April 9th, 2021, with the intention of shipping in mid-May.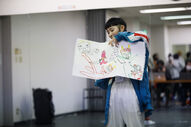 The book is credited to "Unkostar", as opposed to Ainastar, as it was announced during the month where Ainastar was required to have that name.
The inside illustrations were drawn during the WACK AUDiTiON CAMP, but Lingling drew the cover artwork afterwards.
The names of Shimotarou's allies are all sex puns based on current WACK members.
Community content is available under
CC-BY-SA
unless otherwise noted.