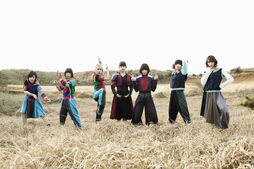 SAiNT SEX is WACK's first shuffle unit, originally formed in Fall 2017.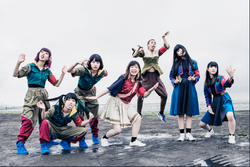 Members
Former Members
Pour Lui (Founding member, graduated March 6th, 2018)
Aya Eightprince (Founding member, graduated May 11th, 2019)
Go Zeela (Joined August 4th, 2018, graduated May 11th, 2019)
History
On October 2nd 2017, it was announced that select members of BiS, BiSH and GANG PARADE had been chosen for WACK's first official shuffle unit, named SAiNT SEX. Their only single, WACK is FXXK, was released on October 18th as a Tower Records limited edition exclusive.
After their first performance as a whole at Wack no Fes 2017, Watanabe announced that SAINT SEX would be disbanding immediately.
In August 2018, SAiNT SEX reunited at Tokyo Idol Festival, with Go Zeela replacing Pour Lui, who had graduated from BiS in March. This new lineup later released a re-recorded version of WACK is FXXK on February 6th, 2019.
In August 2019, SAiNT SEX returned to Tokyo Idol Festival to perform WACK is FXXK with NOW EMPiRE and Pan Luna Leafy as a part of the shuffle unit, replacing Go Zeela and Aya Eightprince who had graduated from WACK in May.
Discography
Single
[2017.10.18] WACK is FXXK
[2019.02.06] WACK is FXXK (re-recording)
Other
Trivia
They are WACK's first shuffle unit.
In 2018, Watanabe revealed on Twitter that he had been thinking of reviving the unit with the name "HOLY SEX". This later became HOLY SHiTS.
This is the first shuffle unit to include a member of CARRY LOOSE.
Community content is available under
CC-BY-SA
unless otherwise noted.