Roman
Album by PEDRO
Japanese

浪漫

Release Date

August 26th, 2020

Format

CD, DVD, Blu-Ray

Genre

J-Rock

Label

EMI Records

Catalogue Number

UPCH-20556 (Regular Edition) UPCH-20555 (DVD Edition)
UPCH-29370 (Limited Edition)

Album Chronology
Previous
Next

N/A

Singles from Roman
Roman (浪漫; Romance) is an album by PEDRO, released on August 26th, 2020.
The album was released in multiple editions; CD-only, CD + DVD and a limited edition with 3 CDs, a blu-ray and photobook.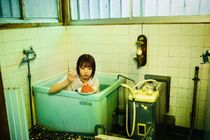 Roman (浪漫)
Ushiro Yubisasu Yakko ni Nakayubi Tateru (後ろ指さす奴に中指立てる; Flip the Bird at Whoever Points at you From Behind)
Karappo Ningen (空っぽ人間; Empty Human)
Sayonara Dake ga Jinseida (さよならだけが人生だ; The Only Thing in Life is to Say Goodbye)
Kanpai (乾杯; Cheers)
Aishiteru Baby (愛してるベイベー; I Love You, Baby)
Hennachoko (へなちょこ; Novice)
[2020.06.14 STUDIO COAST GO TO BED TOUR IN YOUR HOUSE] (With commentary by Ayuni D
Document of GO TO BED TOUR IN YOUR HOUSE
Making of Roman
Community content is available under
CC-BY-SA
unless otherwise noted.