Rocketstart
Single by MAMESHiBA NO TAiGUN
From the album
Japanese

ろけっとすたーと

Release Date

February 13th, 2020

B-Side

Restart (2020 ver.)

Format

CD

Genre

J-Pop

Label

Tower Records

Singles Chronology
Previous
Next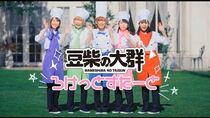 Rocketstart (ろけっとすたーと) is the second single by MAMESHiBA NO TAiGUN, released simultaneously with Daijoubu Sunrise.
The dual single release was part of a music video campaign: If Rocketstart's MV on YouTube has more views than Daijoubu Sunrise by 11pm JST on the 19th of February, their former producer Kuro-chan will become the producer and manager of the group once again. Rocketstart ultimately recieved more YouTube views than Daijoubu Sunrise and Kuro-chan was reinstated with the group.
ろけっとすたーと
Restart (5 member version)
While both songs were released at the same time, Rocketstart is listed as being uploaded before Daijoubu Sunrise making it Kaedephoenix's true debut.
Community content is available under
CC-BY-SA
unless otherwise noted.