POUR LUi
Japanese

プー・ルイ

Nickname

Puu-chan (プーちゃん)

Other Names

Araki Rui

Birthdate

August 20, 1990 (1990-08-20) (age 30)

Zodiac

Leo

Professional Information

Group
Audition Camp(s)

BiS Reformation Audition (Mentor)
WACK AUDiTiON CAMP 2017 (Mentor)

Years Active

2009-present

Associated Acts

BiS, SAiNT SEX, BiS Kaidan, LUI FRONTiC Akabane JAPAN, DiS, BILLIE IDLE®︎

Genre

J-Pop

Label

Tsubasa Records (2009-2010)
WCDONALD RECORDS (2020)

Links

BiS Information

Generation
Role

Leader, Naughty Member (リーダー兼ヨゴレ担当)

Color

■ Pink

Date Joined

December 9th, 2010 (First Generation)
July 8th, 2016 (Second Generation)

Date Left

July 8th, 2014 (First Generation)
March 4th, 2018 (Second Generation)

Debut Release
Final Release
Time in Group

1st Generation: 3 years, 7 months
2nd Generation: 1 year, 7 months, 24 days
Overall: 5 Years, 2 Months, 3 Weeks, 5 Days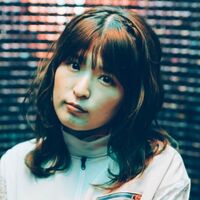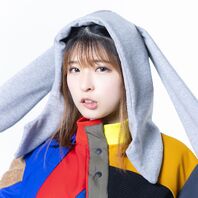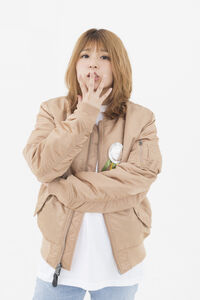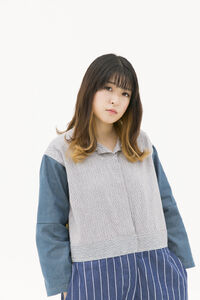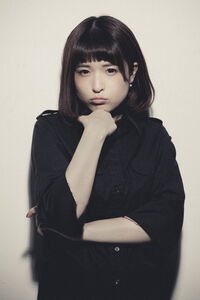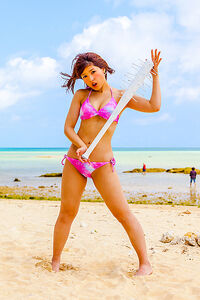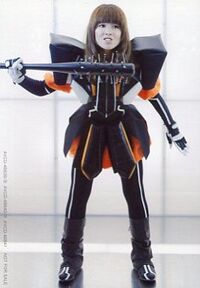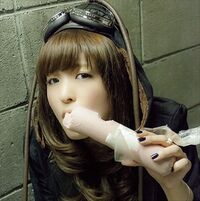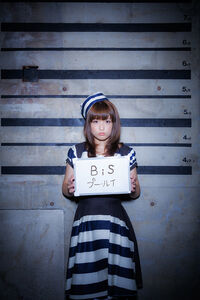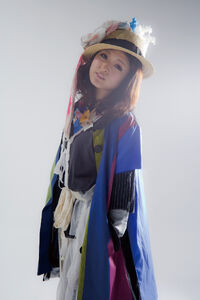 Pour Lui (プー・ルイ) is a Japanese idol and producer.
She was the founder of BiS, and the leader of its first and second generations. After her graduation, she was a member of BILLIE IDLE®︎ from 2018 to 2019. She is currently the leader and producer of PIGGS.
On November 4th, Pour Lui released her first digital single, Kagirareta Toki no Naka de☆, earning her a nomination in the 4th Rekochoku New Artist Awards.
Pour Lui released her second digital single, WHY?, on January 13th.
On March 25th, Pour Lui performed her first live show.
Pour Lui's debut solo album, Minna no Pour Lui, was released on June 23rd.
On September 9th, Pour Lui announced her plans to suspend her solo career in order to form an idol group. She later revealed that the reason she wanted to form an idol group was to cause trouble for her manager, Watanabe Junnosuke, whom she strongly disliked.
At Pour Lui's final solo live on December 9th, she announced the founding line-up of her idol group, BiS.
Pour Lui's first release as part of BiS was the digital single, Taiyou no Jumon, on January 15th.
Pour Lui released her first album as a member of BiS, Brand-new idol Society, on March 23rd.
Pour Lui's first single as part of BiS, My Ixxx, was released on August 3rd.
On July 18th, BiS' major debut single PPCC, was released under Avex.
From October 10th to November 28th, Pour Lui voiced herself in the anime Backstage idol story.
On October 20th, a movie starring Pour Lui and other members of BiS, Idol Is Dead, was released.
On December 28th, Pour Lui took part in the first-ever 100km marathon, alongside Wakisaka Yurika, however, failed to complete it.
BiStory: Who Killed Idol?, an autobiography detailing Lui's time in BiS so far, was published on August 20th. At around the same time, Pour Lui began hinting towards the end of BiS.
On December 24th, Pour Lui formed LUI◇FRONTiC◆Matsukuma JAPAN with Matsukuma Kenta (under the stage name Optimus Matsukuma).
On February 2nd, BiS officially announced that they would disband in July.
Pour Lui's first EP as part of LUI◇FRONTiC◆Matsukuma JAPAN, JAPONiCA!!, was released on January 9th.
On May 28th, Pour Lui starred in Idol Is Dead -Non-chan no Propaganda Daisensou-, a sequel to 2012's Idol is Dead.
BiS disbanded on July 8th 2014, after which Pour Lui moved her attention solely towards LUI◇FRONTiC◆Matsukuma JAPAN.
On October 14th, LUI◇FRONTiC◆Matsukuma JAPAN went on hiatus, after Pour Lui required throat surgery.
LUI◇FRONTiC◆Matsukuma JAPAN's hiatus officially ended on November 17th. However, just two days later, Pour Lui's group mate Optimus Matsukuma withdrew from the band and they changed their name to LUI FRONTiC Akabane JAPAN.
On March 25th, LUI FRONTiC Akabane JAPAN made their major label debut under Universal Records, with the single, Rip Me.
LUI FRONTiC Akabane JAPAN's final release, UP! UP!! UP!!!, was published on January 27th.
On July 8th, exactly 2 years after the disbandment of BiS, Pour Lui announced that she would reboot the group with new members, by releasing a solo music video for BiSBiS, which was also uploaded as a digital single.
From August 31st to September 4th, Pour Lui participated in a livestreamed boot camp audition for the remaining second-generation BiS members.
On September 4th, the winners of the BiS Reformation Audition were announced, and the second generation of BiS started their activities the same day.
From March 28th to April 2nd, Pour Lui participated in the WACK AUDiTiON CAMP 2017 as a mentor.
On April 29th, it was announced that LUI FRONTiC AKABANE JAPAN had disbanded in order for Pour Lui to focus on her BiS activities.
In Spring it was announced that Pour Lui would do DiET or DiE, a challenge previously done by BiSH members Hug Me and Cent Chihiro Chittiii, to promote the popular RIZAP franchise of gyms. A series of videos documenting her efforts to lose weight were posted to the official BiS challenge over the coming months.
On September 13th, Watanabe Junnosuke announced that Pour Lui had been suspended from BiS for failing to lose enough weight, prompting outrage from fans and media outlets.
As an apology for the DiET or DiE scandal, Pour Lui and Watanabe released the joint digital single, BEST FRiEND, on September 26th. However, she was still missing from BiS activities.
On October 2nd, Pour Lui joined WACK's first shuffle unit, SAiNT SEX.
After a ten-day hiatus, Pour Lui returned to BiS on October 6th, following an on-stage "protest" by the remaining members where they squatted to the track "Paprika" for fifteen minutes straight.
Pour Lui's only single with SAiNT SEX, WACK is FXXK, was released on October 18th.
On December 30th it was announced that Pour Lui had ranked 4th in the WACK General Election.
On January 6th, Pour Lui announced that she would graduate from BiS in March, citing that BiS no longer needed her and she no longer needed BiS.
Pour Lui officially graduated from BiS and WACK on March 4th.
Three days after her graduation, Pour Lui's final single as a member of BiS, WHOLE LOTTA LOVE / DiPROMiSE was released on March 7th. While she did not feature on WHOLE LOTTA LOVE, DiPROMiSE was dedicated as a farewell to Pour Lui's nine-year-long career, with the music video showing footage of her from 2009 to 2018.
On April 1st, Pour Lui announced her new career as a YouTuber and launched BYS, a YouTube channel featuring herself and other members of BiS' first generation.
On May 12th, Pour Lui made a surprise appearance during the encore of BILLIE IDLE®︎'s P.S.R.I.P. Tour, where it was announced that she would join the group as a full-time member.
Pour Lui's first show as a member of BILLIE IDLE®︎ took place on June 6th.
Pour Lui's first album as a member of BILLIE IDLE®︎, BILLIed IDLE 2.0, was released July 4th.
On April 27th, in addition to her two BYS channels, Pour Lui also opened a personal vlogging YouTube.
On November 15th, Pour Lui held an art exhibition, "Felty World" (フェルティワールド), showcasing her collection of handmade wool felted art. Ex-BiS member Aya Eightprince also performed at this event.
BILLIE IDLE®︎ disbanded on December 28th, 2019.
After BILLIE IDLE®︎'s disbandment, Pour Lui decided to continue her idol career. As she had reached her 10th anniversary as an idol in late 2019, she decided to commemorate this milestone by releasing a sequel to her debut album.
On January 3rd, Pour Lui made a surprise appearance at WACK's Koshien event to announce the album, Minna no Pour Lui II, which would be an official WACK release (suggesting that she had unofficially rejoined WACK temporarily). Upon the album's announcement, Pour Lui revealed that there would be further announcements to come soon.
Just three days later, on January 6th, Pour Lui made two major announcements: The first was that she had founded her own company with the help of Watanabe, PourPourLand. The second announcement was that, under PourPourLand, Pour Lui would form a new idol group, temporarily named Idol Kenkyuujo, of which she would be both a member and a producer.
On February 14th, Pour Lui appeared as a featured vocalist on the sleepyhead track, "Boku no Janai wa Kimi no Mono".
Pour Lui's second solo album, Minna no Pour Lui II, was released on March 11th.
In early April, Pour Lui revealed on twitter that the members of her new idol group would be living with her during their pre-debut era. This raised concerns as it coincided with Japan's enforced lockdown period to prevent the spread of the coronavirus. Nonetheless, Pour Lui continued to share stories and (censored) photos of the members as they remained quarantined in her apartment.
The starting line-up and name of Pour Lui's group, PIGGS, was announced on April 19th, 2020. The same day, Pour Lui's secondary BYS channel was changed into the official PIGGS YouTube, and their first song, "KICKS" was posted.
Pour Lui's first album as a member of PIGGS, HALLO PIGGS, was released on July 1st.
Pour Lui was born and raised in Saitama. She has one brother, who occasionally appears in her YouTube videos alongside her mother.
While Pour Lui frequently had tensions with early members of BiS, especially Terashima Yufu, whom she hated, she was usually on good terms with the members from 2013 to 2014, of whom she still remains friends.
In early 2019, Pour Lui was photographed with KEYTALK member Ono Takemasa, prompting reports that the two were dating.
She has a pet dog called Kotarou.
Stage Name: Pour Lui (プー・ルイ)
Other Names: Pour Lui (プールイ) Araki Rui
Birth Date: August 20, 1990
Birthplace: Saitama, Japan
Nickname: Puu-chan (プーちゃん)
Western Zodiac: Leo
Eastern Zodiac: Horse
BiS Role: Leader, Naughty Member (リーダー兼ヨゴレ担当)
WACK status:

2010.12.09: Joined BiS
2014.07.08: BiS Disbands
2016.07.08: Reforms BiS
2017.09.13: Suspended from BiS
2017.10.06: Returned to BiS
2018.03.04: Graduated

BiS Colour: ■ Pink
PIGGS Colour: ■ Orange
WACK Groups:

BiS (2010-2014, 2016-2018)
SAiNT SEX (2017-2018)

Other Groups:
JAPONiCA!!: Kanjitai yo Soba ni Itai yo Atarashii Kaze to Kirisaku Hikari o, Pancake (Optimistic), bells, Karappo
JAPONiCA!!2: Dear, I'm with you ~Seesaw Game~, ASCENDING, Drizzle
UP! UP!! UP!!!: Smash Hit, Furachine, Wonderloop, tarite, Ruriiro no Namae Daite, Second Blue, Sheapuri, Ashita Kara, Rip Me, Ashita Sekai ga Owaru Nara
Pour Lui's stage name is French for "for him", inspired by the love songs she wanted to sing as a soloist and her real name, Rui.
Has featured in the most BiS releases out of any other member.
She is the first WACK member to get into a tabloid dating "scandal".
Community content is available under
CC-BY-SA
unless otherwise noted.