The Sandman Will Keep You Awake - The Loop
Play Sound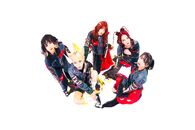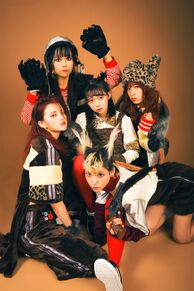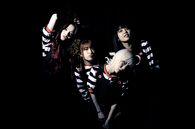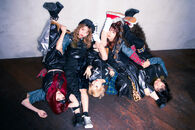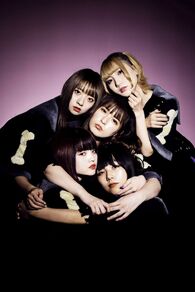 PIGGS (Produce Idol Go to world is Good Society) is a Japanese idol group formed in 2020 and produced by Pour Lui. The group's theme is "More Emo Than Moe".
Members
Former Members
History
On January 6, 2020, Pour Lui announced on twitter that she was going to celebrate her tenth year of being an idol by founding her own company, PourPourLand, and producing a new unit that she would also be a member of. WACK CEO Watanabe Junnosuke would also invest in the group's formation. While the group was being developed, it was given the temporary name of "Idol Kenkyuujou".
Audition interviews took place at WACK's headquarters on February 2 for women aged 18 to 29. During the audition process, Pour Lui kept a daily vlog on her personal YouTube channel where she talked about her progress in forming the group. On February 29, auditions were opened again after one of the audition winners quit before debut due to family issues.
The group was scheduled to record their debut music video on March 3, and invited fans to participate in the filming. However, this was postponed due to the COVID-19 pandemic causing government-imposed limits on public events. When most of Japan began self-isolating from the outbreak in early April, Pour Lui revealed on twitter that she and the other members of the group were living together. She also gave fans their first glimpse of the new unit; a photo of the members in an apartment, with their backs to the camera and heads hastily-censored.
In the days after, Pour Lui posted more pictures with censored faces first identifying the member censored with the colour blue as "Ao-chan (pseudonym)". The other members were given heart emojis with various colours in lieu of names until the next day, where they were all given Japanese female given names corresponding to a colour. The exception to this is Pink, who's name was the colour pink in English.
On April 19, the group's name, PIGGS, and its starting lineup was finally unveiled, with the members being Pour Lui, UMI, CHIYO-P, BAN-BAN and SHELLME. They debuted their first song, "KICKS" on YouTube the same day, and their debut album, HALLO PIGGS was announced for July 1.
Immediately after their initial reveal, PIGGS announced a web campaign, named "I HATE PIGGS". During this campaign, PIGGS members would be given a new challenge every day, building up to one hundred challenges in total. These challenges would all be livestreamed, with new songs being released depending on how many challenges they clear. Pour Lui's reasoning for the challenge was that she wanted the members to love PIGGS so much that they begin to hate it.
On May 1, PIGGS launched a crowdfunding project on Campfire to help support the group, claiming that the coronavirus lockdown was preventing the group from earning money through normal idol means such as live shows and CD sales. In return, fans who backed the campaign would receive songs from HALLO PIGGS early.
On July 25, PIGGS held their debut live performance, titled, "Hajimemashite, PIGGS Desu!", at Shibyua O-Nest.
In late September, PIGGS announced their follow-up to HALLO PIGGS, an extended play titled 5 KILL STARS. 5 KILL STARS will be released on December 16.
2021
Four days leading to their "GREAT MUSCLE TOUR" on March 27, PIGGS attempted a fitness challenge, named "MUSCLE PIGGS". Wearing 8 kg weights on both hands and feet (with UMI reduced to 5 kg due to injury), all members would perform muscle training live on YouTube every day at 9pm, under the guidance of a qualified muscle trainer. For each sit-up, push-up or squat the members did, 1yen was added to their daily food budget. This budget would cover all the food that they would have to survive on, except for two daily protein sources and an onigiri and banana on the day of the tour's first live. In addition, the PIGGs household would be filmed and broadcast on YouTube from 10am to 7pm. This stunt would ultimately hinder PIGGS, however, as one day before the tour was due to begin, the first two dates were suddenly cancelled and the MUSCLE PIGGS challenge prematurely ended due to UMI receiving further injuries from the training. As a result of her injuries, UMI went on hiatus from PIGGS.
On April 13, PIGGS announced that UMI was no longer a member, partly due to her injuries and partly due to disagreements over the direction of the group.
PIGGS released their debut single, T.A.K.O, on April 21.
During the finale of their MUSCLE PIGGS tour on April 28, PIGGs revealed their second single, VISITOR.
On June 6th, PIGGS announced that they would be holding auditions for new members.
PIGGS released VISITOR on July 21st.
During their surprise "NAKED BORN NAKED DIE" live held on September 2nd, PIGGS unveiled a new member, and a new song, also called "NAKED BORN NAKED DIE". The new member, who also appeared in the music video for "NAKED BORN NAKED DIE", was not given a name and her face was obscured by a pig mask until September 18th, where she was revealed as KINCHAN. During KINCHAN's official debut, PIGGS also announced that they would release their second album in the future. Further details on the album were unveiled on October 25th, with the official name of JUICYY.
On Halloween, new member KINCHAN embarked on a 100km marathon. The run was broadcast live.
JUICYY was released on December 22nd.
2022
PIGGS' third single, Chiisana Sakebi, was released on March 30th.
On May 9th, PIGGS announced their major label debut, and their last two indie singles, both of which would be released on July 13th. To determine the direction that PIGGS would take in the future, each single would be produced by a different team: "Team Indie/Team PourPourLand" (Pour Lui, Ryan B. METTY, Kamiya Saki and other PourPourLand staff) and "Team Major" (The unnamed major label's production team). Fans can then vote on their favourite single, and the winning team will go on to produce PIGGS' major label debut. On June 6th, the titles of both singles, BURNING PRIDE and Buta Hankotsu Seishin-Ron, were made public.
Both singles, BURNING PRIDE and Buta Hankotsu Seishin-Ron, were released on July 13th. On July 22nd, PIGGS held a livestream to determine the results of the popular vote. During the stream, a number of revelations about the competition were given; the major label that PIGGS would sign to would be Ariola Japan, a subsidiary of Sony Music. BURNING PRIDE was produced by Team PourPourLand, and Buta Hankotsu Seishin-Ron by Ariola Japan. Finally, BURNING PRIDE had won the popular vote, meaning that PIGGS' major label debut would be handled by Team PourPourLand.
Discography
Albums
Mini-Albums
Singles
Trivia
Gallery