PARADISES
Years Active

2020-Preset

Origin

Tokyo

Label

FUELED BY MENTAiKO

Associated Acts
Website
Members
Former Members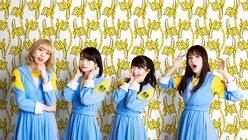 PARADISES is a Japanese idol group under WACK, formed in March 2020, when GANG PARADE was split into two separate units. It was primarily formed from the four least senior members of GANG PARADE, but has since also incorporated promoted members of WAgg.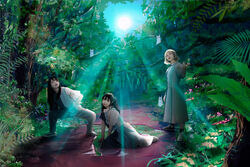 On March 28th, 2020, it was announced at the end of the WACK AUDiTiON CAMP 2020 that GANG PARADE would be split into two groups, PARADISES and GO TO THE BEDS. The starting lineup of PARADISES consisted of GANG PARADE members Terashima Yuka, Tsukino Usagi, Naruhaworld and WAgg trainee Kila May (replacing Haruna Bad Chiiiin who left WACK before the split was even announced).
Music videos for both groups and their debut livestreamed performances immediately followed, and PARADISES' debut digital single, GOOD NIGHT, was released the following day. The debut split EP of both groups, G/P, was distributed on April 1st.
On May 22nd, Kila May officially debuted as a member of PARADISES, and the group announced their debut album and instagram page.
PARADISES released their debut album, also called PARADISES, on July 22nd.
PARADISES held their first one-man live on September 6th. That same day, they released a new song, ENVIES, on digital platforms.
In early October, it was announced that PARADISES would be adding a new member from WAgg. On October 10th, a special audition, PARADISES no Subarashiki Mirai, will be held in order to choose the member who will be promoted.
The theme song for PARADISES no Subarashiki Mirai, PLEASE LISTEN TO MY, was released on November 1st. The song incorporates the members of WAgg who are participating in the audition. PLEASE LISTEN TO MY was later released on the CD, WAgg to PARADISES no Subarashiki Sekai to Mirai.
As part of the PARADISES no Subarashiki Mirai audition, PARADISES released a digital EP, Special Xmas Songs + XXX, on December 23rd. The EP featured guest vocals by WAgg members who had performed well in the first part of the audition.
The PARADISES no Subarashiki Mirai audition ended on December 26th, where it was announced that Utauuta had won the audition and would join PARADISES. In addition, current member Tsukino Usagi would temporarily trade groups, becoming a member of WAgg for six months.
Utauuta will start activities with PARADISES on January 30th. At the same time, Tsukino Usagi will go on hiatus in order to participate in WAgg activities.
Date
Event
Location
Comments
September 6th
Hajimemashite, Rakuendesu.

(初めまして、楽園です。; Nice to Meet you, it's Paradise.)

YOKOHAMA KANNAI HALL, Kanagawa
First oneman live

Livestreamed on PIA

November 5th
Wakabayashi Ward Cultural Center, Miyagi
November 8th
KBS Hall, Kyoto
Date
Event
Location
Comments
August 8th
"WACK FUCKiN' SORRY PARTY"
Pacifico Yokohama National Convention Hall
PiA livestreamed no-audience event
Community content is available under
CC-BY-SA
unless otherwise noted.