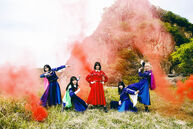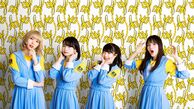 PARADISES is a Japanese idol group under WACK, formed in March 2020, when GANG PARADE was split into two separate units. It was originally formed from the four least senior members of GANG PARADE, but has since also incorporated members outside of the group.
Members
Former Members
Haruna Bad Chiiiin (Left before the announcement of the group's formation)
Utauuta (Joined December 26th, 2020, left July 9th, 2021)
History
On March 28th, 2020, it was announced at the end of the WACK AUDiTiON CAMP 2020 that GANG PARADE would be split into two groups, PARADISES and GO TO THE BEDS. The starting lineup of PARADISES consisted of GANG PARADE members Terashima Yuka, Tsukino Usagi, Naruhaworld and WAgg trainee Kila May (replacing Haruna Bad Chiiiin who left WACK before the split was even announced).
Music videos for both groups and their debut livestreamed performances immediately followed, and PARADISES' debut digital single, GOOD NIGHT, was released the following day. The debut split EP of both groups, G/P, was distributed on April 1st.
On May 22nd, Kila May officially debuted as a member of PARADISES, and the group announced their debut album and instagram page.
PARADISES released their debut album, also called PARADISES, on July 22nd.
PARADISES held their first one-man live on September 6th. That same day, they released a new song, ENVIES, on digital platforms.
In early October, it was announced that PARADISES would be adding a new member from WAgg. On October 10th, a special audition, PARADISES no Subarashiki Mirai, will be held in order to choose the member who will be promoted.
The theme song for PARADISES no Subarashiki Mirai, PLEASE LISTEN TO MY, was released on November 1st. The song incorporates the members of WAgg who are participating in the audition. PLEASE LISTEN TO MY was later released on the CD, WAgg to PARADISES no Subarashiki Sekai to Mirai.
As part of the PARADISES no Subarashiki Mirai audition, PARADISES released a digital EP, Special Xmas Songs + XXX, on December 23rd. The EP featured guest vocals by WAgg members who had performed well in the first part of the audition.
The PARADISES no Subarashiki Mirai audition ended on December 26th, where it was announced that Utauuta had won the audition and would join PARADISES. In addition, current member Tsukino Usagi would temporarily trade groups, becoming a member of WAgg for six months.
2021
Tsukino Usagi officially went on hiatus from PARADISES in January, in order to concentrate on her activities in WAgg.
Utauuta's first performance with PARADISES took place on January 30th. At the same time, PARADISES released the compilation album, PARADISES (REFRESH ver.) on digital platforms. Less than a week later, PARADISES announced an EP, PARADISES RETURN, to be released at the end of the month. The lead track from the album was released as a digital single the same day. This was followed by Kienai Mono a week later.
On March 28th, 2021, it was announced that WACK AUDiTiON CAMP 2021 candidate Ca Non would join PARADISES. Her first performance as a member was supposed to take place on April 29th, but was cancelled due to Japan's State of Emergency. As a result, she debuted via a livestream. During the stream, they also announced that they would release their debut single on July 28th.
In early April, it was announced that AKB48 member Kashiwagi Yuki (as Yuki Reysole) would be joining PARADISES sometime in the near future. Further details were released in Mid-May, where she would release a single with them, Kono Natsu no Bakayarou, at the same time as all other main WACK units, on August 31st. However, in early June all seven singles were postponed so that Yuki would receive emergency surgery.
On June 4th, an end to Tsukino Usagi's trade period with WAgg was finally announced; she would leave WAgg after their June 27th performance, and return to PARADISES on July 1st. On the day that her comeback performance will take place, PARADISES will release another digital album of re-recordings, this time titled PARADISES (FREE ver.).
A new track, Season Song, was released temporarily from June 12th to 18th. The track was split into separate parts, with fans encouraged to create remixes of the song. The completed version of the song was released as a digital single on the 19th, immediately after the remix period ended. With the release of the completed Season Song, PARADISES announced that, not only would Season Song be included on PARADISES (FREE ver.), but one song from the EP would be released daily leading up to July 1st.
Tsukino Usagi returned to PARADISES on July 1st, as planned, and the remaining tracks of PARADISES (FREE ver.) were published online the same day. Included on PARADISES (FREE ver.), was the tracks from their debut single, Daiji na Uta.
On July 9th, Utauuta suddenly withdrew from PARADISES, citing differences in direction. As such, she was removed from their PARADISES PRETTY GUARDIANS TOUR and the group continued as a 5-piece.
Daiji na Uta recieved a physical release on July 28th. That same day, a short film, "Daiji na Joueikei DOCUMENT OF PARADISES" was also broadcast on YouTube.
After over a month of uncertainty, on September 19th, Kono Natsu no Bakayarou, as well as all other singles featuring Yuki Reysole, were rescheduled to late November.
On September 19th, PARADISES will have a one-off radio special with GO TO THE BEDS, with the show having a competition format that would decide with group would have a regular radio slot with the station. PARADISES won the competition, and were announced to have a regular radio show starting in October.
Kono Natsu no Bakayarou will be released on November 30th.
Discography
Other Media
Web Film
[2021.07.28] Daiji na Joueikei DOCUMENT OF PARADISES (大事な上映会 DOCUMENT OF PARADISES; The most important screening DOCUMENT OF PARADISES)
Radio
[2021.09.26] NACK5 Special GxP Battle (NACK5スペシャル G×Pバトル) (with GO TO THE BEDS)
Live Events
Oneman Lives
Joint Events
Other
Trivia
Terashima Yuka and Naruhaworld share the same birthday.
The majority of PARADISES consists of promoted WAgg trainees.
With both Ca Non and Yuki Reysole as members, PARADISES has had two new debuts in a row with idol histories longer than a decade prior to joining.
Gallery