ONAGAWACK is an annual two-day festival taking place in the town of Onagawa in association with Onagawa's tourism board, starting in 2019. Its purpose is to help build the local economy, and involves all present WACK groups. The festival always happens during a joint WACK tour, in February.
As well as live performances, WACK artists will also hold "play" events where fanclub members can try out local activities with their preferred group. The first day will typically be a "LiVE DAY", where all artists perform, and the second a "PLAY DAY", when the play events take place. Almost every "play" event is exclusive to members of each group's corresponding fanclub (BiS-only events exclusive to BiS fanclub members, etc.), excluding the hide-and-seek event which involves every present WACK member and can be played by anyone.
In addition to the performances and events, exclusive merchandise is also sold during ONAGAWACK. As well as typical performance merchandise such as apparel, locally-made WACK group-branded products such as food and drink is also sold.
2019 (Going Going WACK Tour)
[
edit
|
edit source
]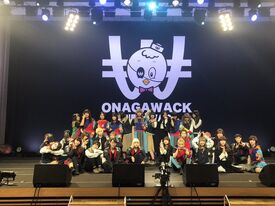 Performances by all artists at Onagawa Town Hall.
2020 (WACK FUCKiN' PARTY Tour)
[
edit
|
edit source
]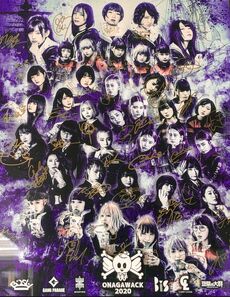 Performances by all artists at Onagawa Town Hall
WAgg new members reveal
Hide and Seek (All members)
Tea Party: BiS
Sushi Tasting: CARRY LOOSE
Tile Painting: GANG PARADE
Onagawa Bay Cruise: BiSH and EMPiRE
Soap Workshop: MAMESHiBA NO TAiGUN and WAgg
BiS: Toggy, Itou Musensiteebu, Chantmonkee, Neo Trees
BiSH: Cent Chihiro Chittiii, Aina The End, Momoko Gumi Company, Hashiyasume Atsuko, Lingling, Ayuni D
GANG PARADE: Kamiya Saki, Yamamachi Miki, Yumeno Yua, Can GP Maika, Terashima Yuka, Yui Ga Dockson, Coco Partin Coco, Tsukino Usagi, Haruna Bad Chiiin, Naruhaworld
EMPiRE: YU-Ki EMPiRE, MAYU EMPiRE, MiDORiKO EMPiRE, MiKiNA EMPiRE, MAHO EMPiRE, NOW EMPiRE
CARRY LOOSE: Pan Luna Leafy, YUiNA EMPiRE, Uruu Ru, Yumeka Naukana?
MAMESHiBA NO TAiGUN: Hanaemonster, Nao Of Nao, Miyukiangel, Aika The Spy, Kaedephoenix
WAgg: Utauuta, A Anzupia, Love, Sayaito, Nayu, Ainastar (New member reveal), Kira May (New member reveal)
Kika Front Frontale (Not performing, instead running KiKA'S BAR popup store)
Community content is available under
CC-BY-SA
unless otherwise noted.