nicamoq
Japanese

守崎風花

Other Names

nicamoq (守崎二花)

Birthdate

February 2nd

Professional Information

Years Active

2015-Present

Associated Acts
Genre

J-Pop, EDM

Links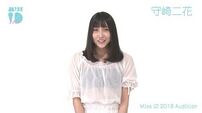 Nicamoq (守崎二花), now known as Morisaki Fuuka (守崎風花), was a former member of BPM15Q.
From June 2015, nicamoq began uploading tracks to Soundcloud. She would frequently collaborate with artists such as Yunomi. Around the same time, she formed BPM15Q with Ichigo Rinahamu.
In December 2016, shortly after the release of BPM15Q's debut album, nicamoq announced that she would be graduating from the unit, prompting the group to rebrand as CY8ER.
In 2017, nicamoq took part in Miss iD 2018, and began performing under her real name, Morisaki Fuka.
See nicamoq Discography Featured In
Surechigai Boku to Kimi no Tsuushin
HANNARI
GOOD LUCK
Go~Shuu!
Community content is available under
CC-BY-SA
unless otherwise noted.