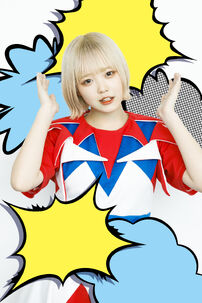 Nayu (ナアユ) is a Japanese idol under WACK, as a founding member of ASP. She initially joined WACK in March 2019, as a trainee in WAgg.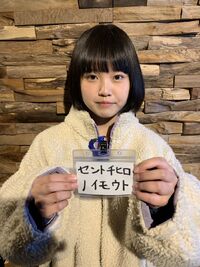 Biography
2019
From March 24 to 30, Nayu took part in the WACK AUDiTiON CAMP 2019, under the name "Cent Chihiro no Imouto".
On March 30, at the audition's concluding WACK EXHiBiTiON, it was announced that Nayu would join WAgg.
Nayu's debut show with WAgg took place on May 26.
2020
On June 12, Nayu's first release, WAgg no Subarashiki Sekai, was published.
On October 25, WAgg released a statement announcing that Nayu would be going on hiatus from activities indefinitely. In the announcement, Nayu claimed that she had been experiencing pain in her foot for over a year. She initially wanted to graduate during WAgg's oneman live on October 18, however, Watanabe had convinced her to take a break from activities instead.
2021
During the fourth day of the WACK AUDiTiON CAMP 2021, Watanabe spoke to Nayu over the phone, on-camera and announced that she would attend the camp's final day on March 27, marking her first public appearance in over five months. While she appeared during the camp's closing ceremony, no statement was made whether her hiatus had ended. However, the formation of a new group, ASP, as announced. At first, all members had their faces hidden from the public, but eventually, the identity of ASP member 0004 was revealed to be Nayu. To keep her addition to the group a mystery, a stand-in wearing her costume was used at the WACK AUDiTiON CAMP.
As she had already debuted in ASP, Nayu did not return to WAgg, not even for a graduation ceremony.
Nayu's first album with ASP, ANAL SEX PENiS, was released on May 26.
In mid-June, Nayu, along with every other active WACK member at the time, joined the shuffle unit, Dogenzaka43. Her only single as part of the group, Kyouniku Jakushoku ~Tsuyoi Yatsura wo Kucchimae~, was released on June 16th.
On July 26th, Nayu went on a two-week hiatus from ASP, after being in close contact with someone infected with coronavirus. She will return on August 9th.
Profile
Stage Name: Nayu (ナアユ)
Other Name: 0004
Audition Name: Cent Chihiro no Imouto (セントチヒロノイモウト)
Birth Date: March 31
Western Zodiac:  Aries
WACK status:

2019.03.30: Joined WAgg
2020.10.25: Hiatus
2021.03.27: Joined ASP

WACK Groups:

WAgg (2019-2020)
ASP (2021)
Dogenzaka43 (2021)

Overall Time in WACK: 2 Years, 4 Months, 0 Days
Discography Featured In
ASP
Album
Single
WAgg
Digital Single
Dogenzaka43
Single
Publications
Film
Lyricist Credits
Trivia
Is the first member of WAgg to join through a live-streamed audition boot camp.
Her audition name is a parody of Cent Chihiro Chittiii (and a reference to her former "little sister" character that was later given to Ayuni D)
Is said to resemble Cent Chihiro Chittiii, which might be a reason why she was named after her in the audition.
She declined to take part in the WACK AUDiTiON CAMP 2020, but instead joined Love's pre-established "training camp" to cheer on the participating members, renaming it to "Love and Nayu's training camp" (らぶなゆなりの合宿).
Gallery