NAO OF NAO
Japanese

ナオ・オブ・ナオ

Nickname

Nattan (なったん)

Other Names

Bashiyasume Atsuko (バシヤスメ・アツコ), Yokoyama Nao (横山奈央), Nao (ナオ)

Birthdate

August 20, 1999 (1999-08-20) (age 21)

Zodiac

Leo

Birthplace

Hokkaido

Bloodtype

A

Height

163cm

Professional Information

Group
Audition Camp(s)

WACK AUDiTiON CAMP 2019,
MONSTER IDOL
WACK AUDiTiON CAMP 2020 (Mentor)

Years Active

2013 - present

Associated Acts

MAMESHiBA NO TAiGUN Information

Color

■ Blue

Date Joined

December 18th, 2019

Debut Release
Time in Group

0 Years, 10 Months, 3 Days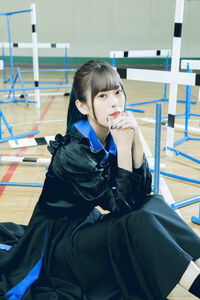 Nao Of Nao (ナオ・オブ・ナオ), real name Yokoyama Nao (横山奈央), is a Japanese idol under WACK, as a founding member of MAMESHiBA NO TAiGUN.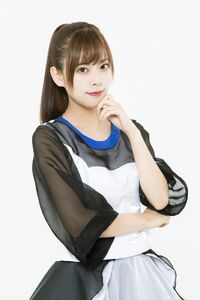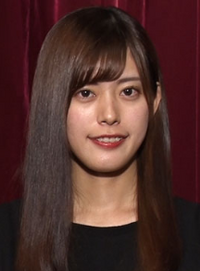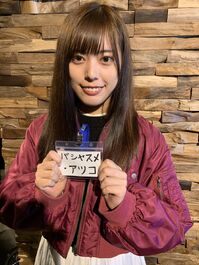 Prior to joining WACK, she was a member of iDOL STREET's trainee units, Street-sei and SAPPORO Snow♥Loveits.
Yokoyama Nao became a 4th generation member of Street-sei, a trainee unit under the iDOL STREET label, and its subgroup, SAPPORO Snow♥Loveits on April 1st, 2013.
On September 14th, 2016, Nao graduated from SAPPORO Snow♥Loveits. and street-sei.
From March 24th, Nao participated in the WACK AUDiTiON CAMP under the name Bashiyasume Atsuko. She was eliminated from the audition on the fifth day for failing to perform enough sit-ups. Afterward, she auditioned for WACK again.
From November 6th, Nao was a contestant on the reality series MONSTER IDOL.
On December 18th, during the final episode of MONSTER IDOL, Nao was announced as one of the show's winners and debuted in MAMESHiBA NO TAiGUN. Her debut single, Restart, was released the following day.
On January 1st, Nao's stage name was changed to "Nao Of Nao".
On February 18th, photos of Nao drinking alcohol were published in the tabloid magazine, "FLASH", which claimed that they had been taken before she had reached the Japanese legal drinking age of 20. An announcement was later made on MAMESHiBA NO TAiGUN's website, confirming the report and apologizing for any trouble this may have caused. The report also stated that, while Nao has already reached the age of adulthood, she will be urged to reflect on the seriousness of her actions and closely supervised to prevent any further incidents. Nao herself also apologized on twitter. The scandal later became the inspiration for the song FLASH, and its music video.
Nao Of Nao participated in the WACK AUDiTiON CAMP 2020 as a mentor from March 22 to 28.
Nao Of Nao's debut album, Start, was released on June 10th.
Nao worked in a hospital before taking part in MONSTER IDOL.
Name: Yokoyama Nao (横山奈央)
Stage Name: Nao Of Nao (ナオ・オブ・ナオ)
Other Names: Nao (ナオ)
WACK Audition Name: Bashiyasume Atsuko (バシヤスメ・アツコ)
Birth Date: August 20, 1999
Birthplace: Hokkaido, Japan
Bloodtype: A
Height: 163cm
Nickname: Nattan (なったん)
Western Zodiac: Leo
Eastern Zodiac: Rabbit
WACK status:

2019.12.18: Joined MAMESHiBA NO TAiGUN

MAMESHiBA NO TAiGUN Colour: ■ Blue
SAPPORO Snow♥Loveits Colour:

■ Orange (2015-2016)
■ Purple (2013-2015)

WACK Groups:
Other Groups:
Overall Time in WACK: 0 Years, 10 Months, 3 Days
Was a member of SAPPORO Snow♥Loveits at the same time as Kaede.
Her audition name was a parody of Hashiyasume Atsuko.
She was able to do 31 sit-ups for her redemption challenge, ranking the last out of all participants that were eliminated that day.
Her hobby is listening to music.
Has been learning to dance since she was 3 years old.
Hates losing.
Her favourite idol is BiSH.
Community content is available under
CC-BY-SA
unless otherwise noted.