NAKAYAMA YUKiKO
Japanese

ナカヤマユキコ

Nickname

UK, Yuke, Uke

Birthdate

11th November, 1991 (Age 28)

Professional Status

Role

Slippery Squadron Member (特攻隊長兼スベリ担当, 2010 - 2011, as a member of BiS)

Years Active

2010-present

Associated Acts
Genre

J-Pop, Rock

Social Media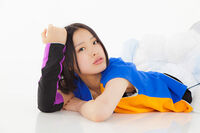 Nakayama Yukiko (ナカヤマユキコ) is a Japanese singer and producer. She was a founding member of
BiS
'
first generation
and the former producer of
Kimi no Mawari.
Biography
Edit
BiS, 2010-2011
Edit
In December 2010, at Pour Lui's final solo live, Nakayama Yukiko was announced as a member of BiS alongside Hirano Nozomi and Yokoyama Rina. Nakayama released her only album as a member of BiS, Brand-new idol Society on March 23rd 2011. Her first single, My Ixxx, was released August 3rd.
On December 20th, Nakayama Yukiko announced that she would be graduating from BiS at the end of the year. While she claimed her reason for graduating was because she no longer found BiS fun, it was speculated that the real reason was due to arguments between herself and Pour Lui over private photos of Nakayama that were shown in the music video for primal. She graduated from BiS ten days later.
Post-BiS
Edit
In June 2012, Nakayama founded the band Morphine Tokyo, of which she was the vocalist. Their debut live took place on September 22nd.
On July 8th 2014, Nakayama appeared as a guest at BiS' disbandment live.
In April 2015, Nakayama was hospitalized and suddenly went on hiatus.
On November 11th, Nakayama's 24th birthday, she announced that Morphine Tokyo had disbanded.
In December, she formed a new band, the End, alongside miifuu, the composer for BiS' Nerve.
In August 2018, Nakayama announced that she would be producing a new idol group and was currently holding auditions for girls under 23. In October, she unveiled the group, Kimi no Mawari. She continued as a producer until their first one man live in May 2019, after which she stepped down from the role.
Personal Life
Edit
In 2015 Nakayama Yukiko was admitted to a mental ward after experiencing suicidal feelings. After being discharged, she did not leave her home for about a month.
In 2017 Nakayama married a man whose identity is unknown. She gave birth to a son in early 2018. Upon getting married, she began studying to become a dietician.
Discography
Edit
See Nakayama Yukiko Discography Featured In
Has a tongue piercing.
Is a fan of Aina The End and frequently tweets her.
Her name has been parodied twice in WACK's audition camps; first by Peri Ubu, then again by Nagayama Yukiko.
Community content is available under
CC-BY-SA
unless otherwise noted.