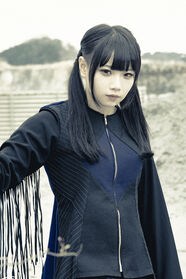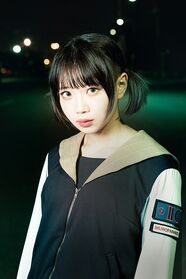 Muropanako (ムロパナコ), now known as Hanako (葉菜子), is a Japanese singer. She was previously part of WACK as a second-generation member of BiS from 2018 to 2019.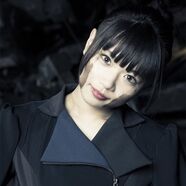 Biography
2018
From March 12 to 18th, Muropanako took part in the WACK Audition Camp 2018 under the name "Ayuna C".
At the concluding WACK EXHiBiTiON on March 18th it was announced that Muropanako had passed the audition and would be joining BiS 2nd.
Muropanako's first single with BiS, Don't miss it!!, was released on July 4th.
On July 26th, Muropanako was added to the shuffle unit HOLY SHiTS, and her debut song with the group was released the same day.
On July 30th, Muropanako ranked 8th in the first BiS.LEAGUE election and remained in BiS 2nd. Afterward, she was given the title of BiS 2nd's captain.
On December 29th, Muropanako ranked 9th in the second BiS.LEAGUE. Due to her low ranking, Watanabe Junnosuke singled her out as being "unfit to perform as part of BiS" and at risk of being removed from the group.
2019
From the 24th to 30th March, Muropanako took part in the WACK AUDiTiON CAMP 2019, under the condition that any BiS members taking part in the boot camp would be removed from the group if they were eliminated.
Although Muropanako had passed the audition camp in full, on March 30th BiS announced that they were to disband, in part due to the firings of Aya Eightprince and Toriaez Hana who had been eliminated from the same camp.
When BiS disbanded on May 11th, Muropanako announced that she would remain in WACK. However, on June 24th, Muropanako revealed on twitter that she had changed her mind and ended her contract. She deleted her account less than an hour later and opened up a new twitter under her real given name, Hanako.
2020
On March 13th, Hanako announced that she was starting a new music project, named Her knuckle, which would be releasing the music video for its debut single two days later.
Hanako's first two digital releases with Her knuckle, Lemon Hata no Kyouryuu and Meury were simultaneously released on May 6th.
In late summer, Her knuckle crowdfunded their debut EP, Genjitsu Kara Sameta Yume. Not long after its release on October 30th, a follow-up album, Kawarimono ga Nanda was announced for a December release date.
2021
Her knuckle suddenly disbanded on June 3rd. In a statement announcing the disbandment, Hanako announced that she would continue to work as a soloist, and her knuckle's oneman live, scheduled for June 19th, was cancelled and replaced with a solo performance held by Hanako.
On September 12th, Hanako released her first solo digital single, Iya ni Natte Kita. Her second, Fuckin' Kuso Nostalgie Jiito Iitai, was released the following month on October 27th, and her third, (Sukinakoto de Kutte Ikitainoni Sainou Toka Oya Toka de Kattou Shite Kekkyoku-ka mo Naku Fuka mo nai Jinsei wo Erabou to Shiteru) Kimi ni Todoke, on November 24th.
On December 21st, Hanako will hold a talk event at Tower Records Shibuya, where she will sell an exclusive CD, Isogaba Maware, Dekireba Sakihokore.
Personal Life
Hanako is a close childhood friend of Ayuni D, and they attended the same school.
On July 30th, 2020, Hanako announced that she had been diagnosed with ADHD.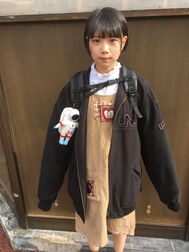 Profile
Current Stage Name: Hanako (葉菜子)
WACK Stage Name: Muropanako (ムロパナコ)
WACK Audition Name: Ayuna C (アユナ・C)
Birth Date: September 12, 1999 (age 22)
Height: 156cm
Bloodtype: A
Nickname: Muropana (ムロパナ)
Western Zodiac:  Virgo
Eastern Zodiac: Rabbit
BiS Role: 

And so, the Legend Begins! Member (そして 伝説が はじまった!担当, BiS)
Captain (BiS 2nd)

WACK status:

2018.03.18: Joined BiS
2019.05.11: BiS Disbands
2019.06.24: Left

WACK Groups:

BiS (2018-2019)
HOLY SHiTS (2018-2019)

Other Groups: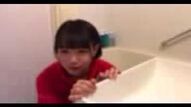 Discography
EP
Digital Singles
Publications
Other Media
Film
Lyricist Credits
Trivia
During the audition camp, there were rumours that Muropanako was actually Ayuni D's older sister.
Her audition name, "Ayuna C", was a parody of Ayuni D.
She considered Ayuni D to be her rival within WACK.
Enjoys video games, especially Dragon Quest, and frequently wears gaming merchandise.
Her catchphrase, "Parupunte!" and her role, "And so, the Legend Begins", are both references to Dragon Quest 3.
Her favourite senpai was Go Zeela.
Muropanako was the only second generation BiS member remaining in WACK that did not join CARRY LOOSE. It was speculated that this may have been a factor in her decision to leave WACK, as she had been liking and sharing tweets about distrusting adults on the day that the group was announced.
Gallery