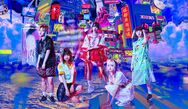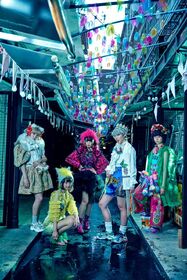 Meme tokyo (ミームトーキョー), formerly meme tokyo., is a Japanese idol group under Dear Stage. Their formation was announced on July 31st, 2019, and were intended to be a sister group to Dempagumi Inc.
Former BiS member Mewclub is a founding member of meme tokyo, performing under the name "MEW". As of 2021, WACK AUDiTiON CAMP 2019 runner-up, Paruna Paa Chiiin, is also part of the group, under the name "SAE".
Members
SOLI
RITO
SAE (Joined January 29th, 2021)
MITSUKI (Joined July 16th, 2021)
NENE (Joined July 16th, 2021)
Former Members
PERO (Supporting member, graduated March 22nd, 2020)
ASUKA (Founding member, Left December 14th, 2020)
KOROMO (Founding member, Graduated June 12th, 2021)
History
2019
Meme tokyo. were revealed at DearStage's new members event on July 31st, 2019. The following day, they performed their debut performance during Tokyo Idol Festival.
On October 11th, meme tokyo. released their first digital single, Denden Passion, a cover of a song by their sister group, Dempagumi Inc. Soon after, SOLI went on hiatus from the group to focus on studying. During this time, Denpagumi Inc.'s Kaname Rin joined as a supporting member, under the stage name PERO (a reference to her nickname, Perorin).
In December, meme tokyo. released their debut original single, Melancholic Circus, which included Denden Passion as a B-side.
2020
At the start of 2020, meme tokyo. announced their first oneman live to take place on March 22nd, which would also be PERO's final show.
Meme tokyo.'s second single, Retro Future, was released on March 18th. One of its B-sides, Brand-New World, was composed by Matsukuma Kenta.
Meme tokyo. released their third single, Moratorium Aquarium, on July 29th.
ASUKA left meme tokyo. on December 14th, with plans to remain part of Dear Stage.
2021
On January 29th, SAE was unveiled as a new member, and a new digital single, Antisuggest, was announced for March. Following its release, Antisuggest was later re-released as a full CD single on April 21st.
KOROMO graduated from meme tokyo. on June 12th.
On June 27th, meme tokyo. changed it's name to meme tokyo, written in katakana (ミームトーキョー) and announced a new single, THE STRUGGLE IS REAL, and new members, yet to be revealed. The new members, MITSUKI and NENE, were unveiled on July 16th.
Between November and December, meme tokyo released two consecutive monthly digital singles; ROAR on November 5th, and New Post on December 10th.
Discography
Singles
Digital Singles
Trivia
RITO is also a concurrent member of Dempagumi Inc. as of February 2021.
SOLI lives in Korea. As such, she has been unable to participate in most group activities since the coronavirus restricted travel between countries in 2020.
Members MEW and SAE had shared a stage together prior to meme tokyo's formation, during 2019's WACK EXHiBiTiON.