The Sandman Will Keep You Awake - The Loop
Play Sound
MAMESHiBA NO TAiGUN (豆柴の大群; Horde Of Little Bean Dogs) is a WACK (and Kuro-chan) unit made up of finalists from the televised MONSTER IDOL competition.
MAMAESHiBA NO TAiGUN's style is generally more light-hearted than other groups under WACK; Being produced by a famous comedian, their style is typically playful and often comedic, with a direction of appealing to both adults and children. Having been birthed through a popular national television programme, MAMESHiBA's style on first impressions initially appeals to a more mainstream audience. However, this increased public attention combined with their comical approach and WACK's unorthodox publicity practices has meant that MAMESHiBA will still (probably accidentally) generate occasional outrage.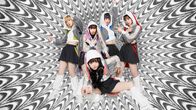 As of WACK ROCKiN' PARTY, most groups have been given representative colours, as used in their costumes. MAMESHiBA NO TAiGUN's colour is

yellow.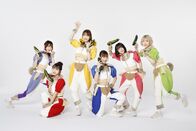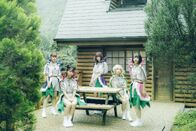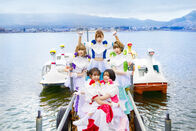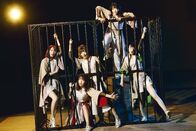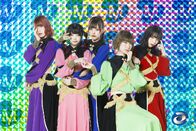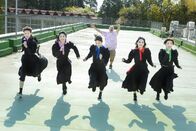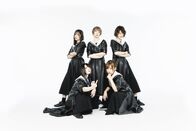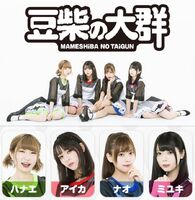 Members
Former Members
Kashiwagi Yuki (Special temporary member, joined for one single in 2021)

History
2019
In August 2019, an audition for a new WACK unit was held, with variety show comedian Kuro-chan being heavily involved with the process. The audition camp was filmed and later broadcast as the miniseries MONSTER IDOL, from November 6 to December 18.
On December 18, the group's line-up, name and debut song were revealed in MONSTER IDOL's final episode. The founding lineup consisted of WAgg trainee Hanae and WACK newcomers Nao, Aika and Miyuki.
After the episode broadcast, their debut music video for lead single "Restart" was posted on Tower Records' YouTube page, followed by an announcement that the single would go on sale tomorrow. For promo, members of the group (and Kuro-chan) visited Tower Records stores around the country to meet prospective fans.
On December 25, MAMESHiBA NO TAiGUN held their debut live, where not only was it announced that Kuro-chan would be dismissed as their producer, but also that MONSTER IDOL runner-up Kaede would join the group.
2020
On January 1, all MAMESHiBA NO TAiGUN members changed their stage names; Aika's name was extended to Aika The Spy, Nao to Nao Of Nao, Miyuki to Miyukiangel and Kaede to Kaedephoenix. Hanae reverted to her former WAgg stage name, Hanaemonster. Along with these name changes also brought a change in image, with leather sukeban-inspired costumes suggesting an edgier and more "WACK-like" rebranding compared to the traditional idol appearance of their debut single. This upset a vocal portion of MAMESHiBA's fanbase, who complained to Watanabe about the changes and demanded Kuro-chan's rehiring.
Towards the end of January, MAMESHiBA NO TAiGUN opened their official YouTube channel, and announced that they would release their second single in the near future.
On February 12, a special reunion episode of MONSTER IDOL aired where Watanabe and Kuro-chan announced the next singles and sales campaign: Kuro-chan Vs WACK. If the music video for the Kuro-chan written and produced song Rocketstart gains more views on YouTube by 11pm on February 19 than the WACK written and produced song Daijoubu Sunrise, then Kuro-chan will be reinstated as the full-time producer. The music videos for the two songs dropped instantly after the show's broadcast. The following week, it was announced that Rocketstart had gained more YouTube views and Kuro-chan was reinstated as their producer.
On March 8, MAMESHiBA NO TAiGUN announced that they would release their debut album, Start, and hold their debut oneman live on May 13. However, due to the COVID-19 outbreak prompting a state of emergency in Japan, the album release was delayed to June 10.
On May 14, the day after what would have been Start's original release date, MAMESHiBA NO TAiGUN released the digital single, FLASH while also revealing more information about the album. It was followed up by Donkusa Happy on the 27th.
During an episode of Suiyobi no Downtown aired on August 5, it was announced that MAMESHiBA NO TAiGUN would make their major label debut under Avex, the same company as BiSH and EMPiRE. The music video for their first song, SAMABARi, was revealed the same day. The following month, B-side KOi NO KAKEZAN ABCDEFG was also released.
MAMESHiBA NO TAiGUN's debut single, AAA, was released on October 7.
MAMESHiBA NO TAiGUN held a live "sports day" event at Tokyo Dome on October 11. As the name suggests, all members competed against each other in a series of sporting events. The sports day was broadcast live on their YouTube channel. At the end of the event, MAMESHiBA NO TAiGUN announced their first nationwide tour to take place from December to January.
On October 24, MAMESHiBA NO TAiGUN held their first one-man live. During the performance, they announced their second album, MAMEJOR! to be released in January 2021, and a photobook commemorating their first anniversary.
Throughout November and December, MAMESHiBA NO TAiGUN began releasing tracks from MAMEJOR! as digital singles, starting with ONEGAi KiSS ME on November 16. MAME NO UTA, MOTiON and TO THE FUTURE followed in the following weeks.
MAMESHiBA NO TAiGUN's first photobook, Hatsuga, was released on December 19. Two days later, a digital EP compiling all of their digital singles from MAMEJOR! so far, Boku Dake no Kaito, was released.
In late 2020, MAMESHiBA NO TAiGUN were nominated for "New Artist Of The Year" at the Japan Record Awards. While they did not win, they attracted attention and controversy during the December 30th award ceremony, when the actual winner, Sanada Naoki, was declared. In response to the announcement, member Miyukiangel jumped in the air and "collapsed", with the remaining members carrying her offstage. The stunt attracted heavy criticism from viewers who felt that they had stolen attention away from the winner.
2021
MAMESHiBA NO TAiGUN's major debut album, MAMEJOR!, was released on January 10.
In an episode of Suiyobi no Downtown aired on February 3, MAMESHiBA NO TAiGUN's next release was announced for some time in the future, with the revelation that a special guest vocalist would feature on the track. Some selected options included Dempagumi Inc's Moga Mogami, SKE48's Matsui Jurina, and First Summer Uika. The conditions of who would feature on the new song would be determined on how much weight Kuro-chan could lose within a month. The following week, it was revealed that Kuro-chan had reached the target that would allow MAMESHiBA NO TAiGUN to perform with First Summer Uika, and the digital single and music video for the song, LOVE CHiKYU feat. First Summer Uika, was released on February 11.
In early April, it was announced that AKB48 member Kashiwagi Yuki would be joining MAMESHiBA NO TAiGUN temporarily sometime in the near future. During the announcement, Yuki, who had previously starred on variety shows with Kuro-chan, expressed bemusement at the prospect of having to work with him again.
On April 28, MAMESHiBA NO TAiGUN announced their first mini-album, WOW!! Season, and released their first song from the album, HASHiRE MAMESHiBA, as a digital single the following day.
In May, it was announced that MAMESHiBA NO TAiGUN would release a single with Kashiwagi Yuki on August 31st, concurrently with six other singles that she would feature in across various WACK groups. While initially scheduled for August 31st, in early June the single was postponed so that Yuki could receive emergency surgery.
On June 18th, MAMESHiBA NO TAiGUN released the digital single, MAMESUMMER!?
WOW!! Season was released on July 14th.
In early October, MAMESHiBA NO TAiGUN performed the event, MAMESHiBA NO TAiGUN No Shippou, in which Pour Lui, Kamiya Saki, Koshouji Megumi and Bed In made guest appearances. After the show, they announced a new single, KiNOU WA MODORANAi / KOi NO FULL SWiNG. The first A-Side, KiNOU WA MODORANAi, was released midnight that same evening.
MAMESHiBA NO TAiGUN's collaborative single with Kashiwagi Yuki, Kashiwagi Yuki Nari no MAMESHiBA NO TAiGUN-Zutto ki ni Naru Zucchini-, was released on November 30th.
In early December, MAMESHiBA embarked on a live tour, Mameshiba48, alongside a number of AKB48-affiliated acts. They then released by KiNOU WA MODORANAi / KOi NO FULL SWiNG on December 22nd and ended the year with the digital single, Oshogatsu, which commemorated the impending new year, on December 27th.
2022
A home video release of MAMESHiBA NO TAiGUN's concert, MAMESHiBA NO TAiGUN No Shippou, was released on March 9th, as well as a new digital single, Sakura Iro. Sakura Iro was also included on CD in limited editions of Shippou.
In late April, MAMESHiBA NO TAiGUN announced an impending single, Mamen JOY / Machigai Darake no Hero, for July. The track Mamen JOY would be released as a separate digital single on April 25th, followed by Machigai Darake no Hero on July 13th. The complete single was released on July 20th.
MAMESHiBA NO TAiGUN will feature in the upcoming smartphone game, WACK ROCKiN' PARTY, which is set to be released later in the year.
Discography
Filmography
Music Videos
Television
Live Video
Publications
Games
Smartphone
Card Game
Live Events
Trivia
Nao Of Nao and Kaedephoenix were both former members of iDOL STREET's trainee unit, street-sei, and it's subgroup, SAPPORO Snow♥Loveits.
Including Hanaemonster, who was a member of WAgg, there are a total of three idol trainees in MAMESHiBA NO TAiGUN.
Hanaemonster and Nao Of Nao both previously participated in the WACK AUDiTiON CAMP 2019 together.
Due to the audition being televised on a mainstream programme, MAMESHiBA NO TAiGUN have had the most commercially successful debut out of any other WACK group so far.
Gallery