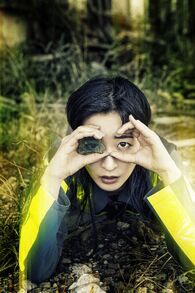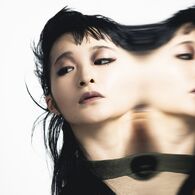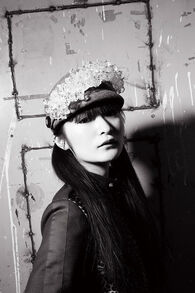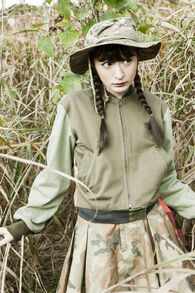 Lingling (リンリン) is a Japanese idol under WACK, as a member of BiSH, joining in August 2015. She is also a member of WACK no Kuso Unit.
Biography
Early Career
Before joining BiSH, Lingling auditioned for Hello! Project twice; first auditioning for Morning Musume's 9th generation, then again for S/mileage's second.
2015
On August 5th, Lingling was revealed as a new member of BiSH, alongside Hashiyasume Atsuko. Her debut performance took place at TOKYO BiSH SHiNE on August 26th, with her debut single, OTNK, being released eight days later on September 2nd.
2016
Lingling's first album, FAKE METAL JACKET, was released on January 20th. Soon after, BiSH announced their major label debut.
2018
On October 16th, 2018, Lingling modelled for NEGLECT ADULT PATiENTS at Amazon Fashion Week.
2019
Lingling represented NEGLECT ADULT PATIENTS at Amazon Fashion Week for a second time on March 20th. Soon after, she also modelled for the brand Hysteric Glamour.
On September 5th, Lingling opened an official Instagram account, being the first member of BiSH to do so.
2020
On January 19th, Lingling was the subject of an issue of FUCK and FUCK.
2021
In March, Lingling collaborated with chocolate distributor, Morinaga, to release a solo song titled "Toukue" alongside their mascot, Kyorochan. The music video was released on March 1st, with lyrics sung from the point of view of Kyorochan.
From March 21st until March 27th, Lingling participated in the WACK AUDiTiON CAMP 2021 as a mentor. She was the last member of BiSH to be chosen for the camp, with all other members having participated in previous years.
Lingling released her first book, Shi(mo)motarou, sometime in mid-May. The book is a picture book aimed towards adults, based on illustrations that she drew during the WACK AUDiTiON CAMP.
In mid-June, Lingling, along with every other active WACK member at the time, joined the shuffle unit, Dogenzaka43. Her only single as part of the group, Kyouniku Jakushoku ~Tsuyoi Yatsura wo Kucchimae~, was released on June 16th.
On August 31st, Lingling modelled NEGLECT ADULT PATiENTS' Spring/Summer 2022 collection at Rakuten Fashion Week.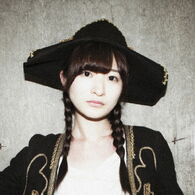 On December 24th, BiSH announced that they would disband in 2023. Just three days later, she was randomly-selected to join a new shuffle group, WACK no Kuso Unit, after ranking poorly in the VOTE! WACK SELECT 7 general election.
Personal Life
Lingling never worked prior to BiSH, as she felt no need to.
She has a niece, born in September 2019, and two pet poodles, named Gataratto and Djokovich.
Profile
Stage Name: Lingling (リンリン)
Birth Date: March 9
Birthplace: Shizuoka, Japan
Height: 157cm
Blood Type: B
Western Zodiac:  Virgo
BiSH Role: Silent Member (無口担当)
WACK status:

2015.08.01: Joined BiSH
2023: BiSH disbands

BiSH Colour: 

■ Pink
■ White (2015-2016)

WACK Groups:

BiSH (2015-2023)
Dogenzaka43 (2021)
WACK no Kuso Unit (2021-)

Overall Time in WACK: 6 Years, 5 Months, 25 Days
Discography
See Lingling Discography Featured In
[2021.03.01] Toukue (遠クエ; Distant) (KyorochanxLingling (BiSH)
Publications
Books Written
Other Media
Live Video
Films
Web Series
Lyrics Written
Trivia
Was the last BiSH member to take part in the live-streamed audition boot camps.
Is a big Hello! Project fan and her favourite idol is ex-Morning Musume leader Niigaki Risa, saying that if she ever met her, she would cry. When she finally met Niigaki in the music video for JAM, she did indeed cry.
Her current Morning Musume oshimen is Sato Masaki.
Was known to frequently experiment with her hair early in her career, however, since late 2018 it has stayed in more or less the same mullet-esque style.
Her stage name is a reference to former Morning Musume member Linlin, whose stage name was written in Japanese and pronounced the same (リンリン) .
Has a phobia of pigeons.
Inherited the pink member colour from Hug Me following her graduation. Her previous member colour was white, which was given to Ayuni D instead.
Is the first BiSH member to open an official instagram account.
Gallery