BILLIE IDLE®
Japanese

LUIFRONTIC赤羽JAPAN

a.k.a

LUI◇FRONTiC◆Matsukuma JAPAN (LUI◇FRONTiC◆松隈JAPAN)

Years Active

2013-2017

Origin

Tokyo

Label

Tsubasa Records
Space Shower Music
Universal J

Associated Acts
Website
Former Members

Pour Lui
Optimus Matsukuma
Tempest Takeuchi
Ohara just begun
Angels Ken
Kusunose Takuya
Itou Naoya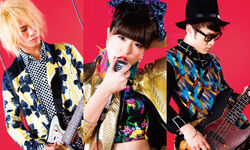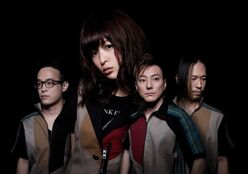 LUI FRONTiC Akabane JAPAN
(LUI FRONTiC 赤羽JAPAN), formerly
LUI◇FRONTiC◆Matsukuma JAPAN
(LUI◇FRONTiC◆松隈JAPAN), was a band founded in 2013 by
BiS
leader
Pour Lui
and their producer
Matsukuma Kenta
(under the stage name "Optimus Matsukuma").
As of 2017, they have disbanded.
Final Lineup
Edit
Pour Lui (Vocals, founding member)
Tempest Takeuchi (Guitar, chorus, founding member)
Ohara just begun (Bass, chorus, founding member)
Angels Ken (Drums, joined February 8th, 2016)
Previous Members
Edit
Support Members
Edit
Kusunose Takuya (Drums)
Itou Naoya (Drums)
LUI◇FRONTiC◆Matsukuma JAPAN was founded in December 2013, while Pour Lui was still in BiS. Their activities started on December 24th, and their first release was the mini-album JAPONiCA!! in February 2014.
After BiS disbanded in July 2014, Lui dedicated herself to LUI FRONTiC full-time, and they released their second EP, JAPONiCA!!2 in August. However, the band went on hiatus from October 15th to November 17th, as Pour Lui required polyp surgery. Just two days after their comeback, Matsukuma withdrew from the band, and they changed their name to LUI FRONTiC Akabane JAPAN. The "Akabane" refers to the Akabane bridge in Tokyo.
In early 2015, LUI FRONTiC Akabane JAPAN signed with Universal J, and their first major single, Rip Me, was released on March 25th. It was followed by their second and final single, Wonderloop, on August 12th.
On January 27th, 2016, LUI FRONTiC released their only major album, UP! UP!! UP!!!
In July, Pour Lui announced her plans to reform BiS and the band went on hiatus. However, on April 28th, 2017, LUI FRONTiC Akabane JAPAN announced that they had disbanded.
Discography
Edit
Mini-Albums
Edit
While a member of LUI FRONTiC, Pour Lui's name was written as プールイ, rather than her more well-known spelling of プー・ルイ.
Tempest Takeuchi and Ohara just begun were both former members of the band, the storefront.
Community content is available under
CC-BY-SA
unless otherwise noted.