LOVE CHiKYU feat. First Summer Uika
Single by MAMESHiBA NO TAiGUN, First Summer Uika
Japanese

らぶ地球 feat.ファーストサマーウイカ

Release Date

February 11th, 2021

Format

Digital

Genre

J-Pop

Label

Avex

Singles Chronology
Previous
Next

N/A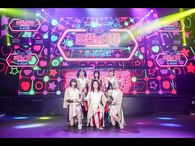 LOVE CHiKYU feat First Summer Uika (らぶ地球 feat.ファーストサマーウイカ; Love Earth) is a collaborative digital single released by MAMESHiBA NO TAiGUN and ex-BiS member First Summer Uika.
The single was released as part of a challenge where MAMESHiBA NO TAiGUN's manager, Kuro-chan, needed to lose weight. His weight-loss attempt was aired on Suiyobi no Downtown (the same programme which MONSTER IDOL was a segment of). As incentive for Kuro-chan's weight goals, a selection of different celebrities who would collaborate with MAMESHiBA on a new track were revealed. The celebrity chosen to collaborate with MAMESHiBA NO TAiGUN would depend entirely on how much weight Kuro-chan lost within a month, with each celebrity given a number representing the number of kilograms Kuro-chan would need to lose. As well as Uika, some proposed celebrities included ZOC's Aizome Karen, ex-Dempagumi Inc. Moga Mogami, and SKE48's Matsui Jurina.
In an episode of Suiyobi no Downtown aired the following week, it was revealed that Kuro-chan had hit the 8 kilogram weight loss goal required to allow First Summer Uika to collaborate with MAMESHiBA, and the song and music video were released the same day.
LOVE CHiKYU

This is the first time that a first-generation member of BiS has been musically involved with WACK since Kamiya Saki graduated in May 2020.
While this is her first time working with MAMESHiBA NO TAiGUN directly, First Summer Uika had previously appeared in the first episode of MONSTER IDOL; she was a guest on Suiyobi no Downtown the night the segment began airing, and as is standard in Japanese variety programming, her reactions to the episode's events were broadcast alongside the footage as it aired.
First Summer Uika was given an orange member colour in the music video for LOVE CHiKYU.
Community content is available under
CC-BY-SA
unless otherwise noted.