The Sandman Will Keep You Awake - The Loop
Play Sound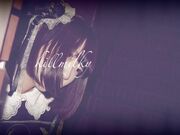 Killmilky is a noise-rock band fronted by ex-BiS member Manako Chiii Manako (performing as "Komori Manako"). They were formed in the spring and summer of 2020.
They describe themselves as a "fictional avant-garde hypnotic hallucinatory schizophrenic silent hysterical insane nostalgic punitive latent perverse cinematic cannibalistic violent milky shoegaze music collective".
Members
Komori Manako (Guitar, Vocals)
Nakano Chiko (中野ち子) (Guitar)
★ (Drums)
Wada (わだ) (Bass)
History
Killmilky's formation was announced on twitter on July 7th, 2020, and the music video for their first song, "yugato" was published the same day.
On September 20th, killmilky released the music video for "Hakuchuumu".
In late January 2021, killmilky opened a crowdfunding campaign to fund their first EP. By its second day, on January 26th, it had surpassed its goal of 300,000 yen.
After spending over a year in production, killmilky's debut EP, If you kill milky me, was released on April 6th, 2022. Shortly after, it was announced that they had recorded a new song for the compilation CD, "Total Feedback 2022", which will be released on June 22nd.
Discography
EP
Songs