KiKA FRONT FRONTALE
Japanese

キカ・フロント・フロンタール

Nickname

Kika-nee

Other Names

Maina The End (マイナジエンド)

Birthdate

September 18th

Zodiac

Virgo

Height

150cm

Professional Information

Audition Camp(s)
Years Active

2016-2019

Associated Acts
Links

BiS Information

Generation
Date Joined

September 3rd, 2016

Date Left

May 11th, 2019

Debut Release
Final Release
Time in Group

2 years, 8 months, 8 days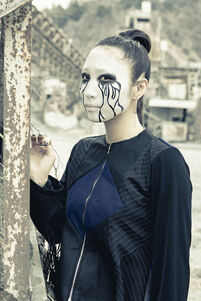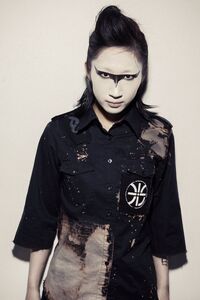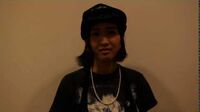 Kika Front Frontale (キカ・フロント・フロンタール) is a Japanese former idol. She was previously part of WACK as a Second Generation member of BiS, remaining a member from its formation to disbandment.
In the Summer of 2016, Kika Front Frontale auditioned for BiSH, however, failed the audition. Instead, she auditioned for the upcoming reboot of BiS.
From August 31st to September 4th, Kika took part in the BiS Reformation Audition under the name "Maina The End".
On September 4th, during the audition's final day, Kika Front Frontale was announced as a founding member of BiS's Second Generation.
On November 16th, Kika's first album as a member of BiS, Brand-new idol Society 2, was released.
In early 2017, Kika Front Frontale began to wear shironuri makeup on-stage and in promotional material on a regular basis.
On May 31st, Kika's first single as a member of BiS, SOCiALiSM was released. At this time, her longtime idol Kamiya Saki had also temporarily joined BiS as a member, and the two formed an onstage duo known as "Team Evil".
At the 2018 WACK EXHiBiTiON on March 18th, it was announced that Kika Front Frontale would be placed in BiS 2nd when BiS would split into two groups.
On July 27th, Kika attempted to do 10,000 squats in an effort to secure more votes for BiS.LEAGUE, running out of time at over 6000.
On July 30th, Kika Front Frontale ranked 5th and remained in BiS 2nd.
On December 29th, Kika ranked 3rd in BiS.LEAGUE. She was not promoted to BiS 1st due to the end of BiS.LEAGUE being announced the same day.
On March 30th 2019, BiS announced that they would disband and all current members, including Kika, would graduate from the group.
BiS' second generation officially disbanded on May 11th, 2019 and Kika announced that she had terminated her contract with WACK and would be taking a break from entertainment.
After a two-month hiatus, Kika appeared as a guest on the NACK5 Rajana radio show on July 5th, where she announced that she was opening a bar.
On October 8th, KiKA'S BAR was opened to the public as part of the MULTiPLE MANiACS store.
On December 19th Kika Front Frontale launched her own brand of beer, KiKA'S BEER.
In early 2020, Kika set up a pop-up bar at the ONAGAWACK and TOWACK RECORDS events. For many fans it was their first time seeing Kika at a WACK-related event since her graduation, although she did not actually perform and instead served drinks.
In June, Kika Front Frontale became the subject of photographer Usami Ryo's third "CUTE BUT PSYCHO" exhibition.
On June 24th, Kika announced that KiKA'S BAR would permanently close.
Kika grew up in a rural area. Before joining BiS (and for a short time afterward) she worked in a bakery.
Stage Name: Kika Front Frontale (キカ・フロント・フロンタール)
WACK Audition Name: Maina The End (マイナジエンド)
Birth Date: September 18th
Birthplace: Saitama, Japan
Height: 150cm
Nickname: Kika-nee (キカ姉)
Western Zodiac: Virgo
Eastern Zodiac: Monkey
WACK status:

2016.09.04: Joined BiS
2019.05.11: Graduated (BiS disbands)

WACK Groups:
Community content is available under
CC-BY-SA
unless otherwise noted.