KiLLiNG IDOLS
Album by BiS
Release Date

February 24th, 2021

Format

CD, Blu-Ray

Genre

J-Pop

Label

ULTRA STUPiD RECORDS

Catalogue Number

CRCP-40620

Album Chronology
Previous
Next

N/A
KiLLiNG IDOLS is an EP released by BiS on February 24th, 2021. The EP was announced at the same time as their private label (in conjunction with Crown Records), ULTRA STUPiD RECORDS.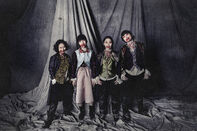 The EP will be released in a CD and Blu-Ray edition, with the blu-ray containing a recording of their "The DANGER OF MiXiNG BiS" oneman live.
HiDE iN SEW
GOiNG ON
I ain't weak maybe..
Dokkyun Bakkyun (どっきゅんばっきゅん)
Tsuyogari-san (つよがりさん; Strong-san)
Tower Records: One of four randomly-selected solo member posters.
HMV: Mask strap
Amazon: Group cheki (TYPE-A)
Rakuten Books: Group cheki (TYPE-B)
WACK FAMiLY CLUB: Limited edition CD, signed B2 poster
Community content is available under
CC-BY-SA
unless otherwise noted.