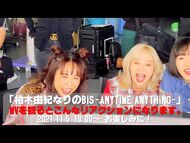 Kashiwagi Yuki Nari no BiS-ANYTiME ANYTHiNG- (柏木由紀なりのBiS-ANYTiME ANYTHiNG-) is a single released by BiS on November 30th, 2021. It is one of seven releases published as part of the VOTE! WACK SELECT 7 election. It's original production name was Owaranai Long Long Days (終わらないロングロングデイズ; The Endless Long, Long Days).
This single will feature Kashiwagi Yuki as an official limited-time member, and will be released at the same time as six other singles by BiSH, GO TO THE BEDS, PARADISES, EMPiRE, MAMESHiBA NO TAiGUN and ASP respectively, of which will also feature Kashiwagi as a member. Included with the single is a ticket that enables fans to vote for their favourite member of WACK.
The original release date for these singles was August 31st. However, in early June, Kashiwagi was diagnosed with Syringomyelia and had to pause activities to receive surgery. As a result, the release of all seven collaborative singles were postponed. On September 17th, a new release date of November 30th was announced.
The B-Side is a re-recording of STUPiD, with Kashiwagi Yuki's vocals included.
Tracklist
Kashiwagi Yuki Nari no BiS-ANYTiME ANYTHiNG-
STUPiD <KASHiWACK ver.>
Kashiwagi Yuki Nari no BiS-ANYTiME ANYTHiNG-(off vocal ver.)
STUPiD <KASHiWACK ver.>(off vocal ver.)
Featured Members
Oricon Chart Positions
| Mon | Tue | Wed | Thu | Fri | Sat | Sun | Week Rank | Sales |
| --- | --- | --- | --- | --- | --- | --- | --- | --- |
| 6 | 17 | 10 | 16 | 16 | 18 | 25 | 12 | 9,586 |
| 24 | - | 25 | 27 | 19 | - | - | 34 | 1,250 |
Monthly Ranking
| Year | Month | Month Rank | Sales |
| --- | --- | --- | --- |
| 2021 | December | 29 | 11,916 |
Weekly Combined Ranking
| Week Rank | Points |
| --- | --- |
| 48 | 9,731 |