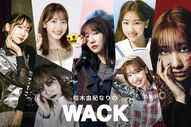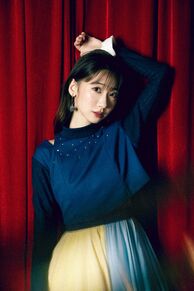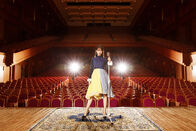 Kashiwagi Yuki (柏木由紀), also known as Yuki Reysole (ユキ・レイソレ), is a Japanese idol. She is a member of AKB48's Team B, but is also part of WACK as of April 2021, when it was announced that she would temporarily join all seven WACK groups. She is currently a producer and member of an as-of-yet unnamed shuffle unit composed of the top seven members voted for in the VOTE! WACK SELECT 7 election.
It was initially decided that, while part of WACK, she would perform as "Yuki Reysole" and continue activities outside of WACK under her real name. However, she has since continued to be credited under her real name, even on WACK projects.
NOTE: Due to Yuki's extremely long history with AKB48, the WACKi will prioritize covering her solo and WACK work. Information regarding her work with AKB48 and its sister groups will be limited, and music released under these groups will not be covered on the WACKi. It is highly encouraged that you read her Stage 48 profile for a more detailed summary of her career outside of WACK.
Biography
AKB48
Early career
Kashiwagi Yuki was debuted as an original member of AKB48's Team B on April 8, 2007, following multiple attempts at auditioning for the group. On July 18, she participated in her first senbatsu single, BINGO!
On February 27, 2008, Yuki featured as a senbatsu for the single, Sakura no Hanabiratachi 2008. She has participated in every senbatsu single since then.
2009
On March 25, 2009 Kashiwagi Yuki signed with Watanabe Entertainment (no, not that Watanabe. Yet). She also began to get more television roles, from AKB-affiliated programming such as AKBINGO! and Shukan AKB, to weather programming such as Tsubasa's Weekly Corner.
Kashiwagi Yuki was appointed the captain of AKB48's Team B on August 23. Just six days later, she released her first photobook, Ijou, Kashiwagi Yuki Deshitatsu. The book would go on to receive the first place ranking of TBS's "Best Photobook" vote. She later released a solo DVD documenting the making of the book, titled Ijou, Guam Kara Kashiwagi Yuki Deshita.
From October 30 to November 8, Kashiwagi Yuki played the female lead, Maria, in AKB48's stage play, AKB48 Kagekidan "∞・Infinity". Also in November, she participated in the music video for CLIFF EDGE's "SA・YO・NA・RA ~ Kimi wo Wasurenaiyo~".
2010-2011
From January 10 to March 26, Kashiwagi Yuki starred in the TV drama, Majisuka Gakuen.
In June, Yuki joined the AKB48 subunit, French Kiss. Their debut single, Zutto Mae Kara, was released on September 8.
From 26 February to 11 March 2011, Yuki starred in the TV drama, Sakura Kara no Tegami.
On April 7, Yuki voiced the character, Rumi, in the anime, "SKET DANCE", which French Kiss also provided the opening theme song for. That same month, she starred in the second season of Majisuka Gakuen, and released her second solo DVD, Love Letter.
During the third AKB48 Senbatsu Election held on June 9, Kashiwagi Yuki ranked third, breaking through to the prestigious Kami 7 position for the next single.
On July 10, Yuki starred in the TV drama, "Hanazakari no Kimitachi e〜 Ikemen☆ Paradise〜".
2012
Kashiwagi Yuki's second photobook, Yu, Yu, Yukirin..., was released on April 19.
On July 13, Yuki held her first solo concert, Netemo Samete mo Yukirin World. That same day, her official solo debut was announced.
Kashiwagi Yuki lost her role of Team B's captain on August 24.
2013-2014
From January 11 to March 29, Kashiwagi Yuki starred in the lead role of the TV drama, "Mieriino Kashiwagi".
Yuki's first solo single, Shortcake, was released on February 6. That same month, she held her second solo concert, "Netemo Samate mo Yukirin World 〜Muchuu ni Sasechauzo ♡〜".
From July 8, Yuki starred in the TV drama, "Fortune Cookies", alongside other AKB48 members.
Kashiwagi Yuki's second solo single, Birthday Wedding, was released on October 16.
On November 7, Yuki held her third solo concert "〜Netemo Samete mo Yukirin World 〜Motto Muchuu ni Sasechauzo ♡〜".
On February 24, 2014, it was announced that Kashiwagi Yuki would become a member of NMB48's Team N concurrently with her AKB48 activities. Her first performance with the group took place on April 5.
2015-2016
Kashiwagi Yuki's concurrent position with NMB48 was cancelled on March 26, with the announcement being made that she would instead join NGT48.
French Kiss disbanded on November 5.
On January 10, 2016, Yuki was promoted to NGT48's Team NIII.
Yuki held her first solo tour, Kashiwagi Yuki 1st Tour ~Netemo Samete mo Yukirin World 〜Nihon Juudan Minna Muchuu ni Sasechauzo ♡~ from April 14 to May 29. A home release of the tour was published on November 23, featuring a new song, "miss you".
2017-2018
Nakayama Hideyuki released his anniversary EP, "50", on August 2, 2017. Kashiwagi Yuki featured on the track, "Wakaretemo Sukinahito".
Released on October 25, Kashiwagi Yuki recorded the song, "A Dream Is a Wish Your Heart Makes", for the compilation album, Thank You Disney.
From January to March 2018, Yuki performed a number of solo gigs, including a show in Shanghai.
On June 20, Yuki released a self-help book, Idol Tanjou! ~Konna Watashi wa AKB48 ni!?~. The book was aimed towards young girls who aspired to become idols.
On 4 and 5 August, Yuki performed solo mini concerts in Shanghai. She extended this later to a tour with other dates in Chongqing, Taiwain and Hong Kong.
On December 5, Yuki released a solo digital single, Sokkenai Kimi.
2019-2020
Kashiwagi Yuki withdrew from NGT48 on April 21, 2019. She remained a member of AKB48.
Yuki held a solo birthday performance at the AKB48 theater, "Kashiwagi Yuki Solo Kouen ~Nete Sametara 29-sai ni nacchaimashita!~", on July 15. On December 27, she also held a solo dinner show.
WACK
2021
On March 3, Kashiwagi Yuki released her third solo single, CAN YOU WALK WITH ME??. The song was produced by WACK founder and CEO, Watanabe Junnosuke. Following its release, Watanabe announced that he would continue to work with her in the future, with further details to be released in April.
On April 9, Kashiwagi Yuki announced on her YouTube channel that she will be temporarily joining all seven current WACK groups (BiS, BiSH, GO TO THE BEDS, PARADISES, EMPiRE, MAMESHiBA NO TAiGUN and ASP). In the video, Watanabe urged Yuki to "abandon the high road of AKB48 and aim for the low road of WACK". In an update video released a week later, it was announced that Yuki's stage name while under WACK would be "Yuki Reysole". However, afterwards she continued to be referred to as both Kashiwagi Yuki and Yuki Reysole in future updates and official WACK releases, with the former being used more often.
On May 15, it was announced that seven singles featuring Yuki (one for each main WACK unit) would be released simultaneously on August 31. In a video released the following week, the in-production titles of each single that she would feature on were announced:
BiS: Owaranai Long Long Days
BiSH: Wakare no Sora ni wa
GO TO THE BEDS: SORANOUTA
PARADISES: Kono Natsu no Bakayarou
EMPiRE: Tarira Tarira Tarira
MAMESHiBA NO TAiGUN: Zutto ki ni Naru Zucchini
ASP: Ariman Shock
However, in early June, Yuki was diagnosed with Syringomyelia, a tumour in her spinal cord, after experiencing numbness in her left hand and foot. In order to treat the condition, Yuki took a hiatus from all activities. As a result, her seven singles with WACK were delayed indefinitely. Yuki's surgery took place on June 25th, and lasted seven hours.
Yuki released her third photobook, Experience, on July 15th, her thirtieth birthday. That same day, she announced that she would resume activities, as, despite being told that she would need to be hospitalized for a month, she was able to recover from her surgery in eight days.
On September 17th, a rescheduled release date for her WACK singles was announced, with all singles being released on November 30th.
Further details were announced on her YouTube channel on October 8th, revealing that an election amongst all WACK members, VOTE! WACK SELECT 7, would be held, with voting tickets being included with all of Yuki's collaborative singles. The top seven most popular WACK members would then join a new unit that Yuki would produce. In addition, the final confirmed names for each single was revealed:
The music videos for each song were gradually released day by day starting with BAD TEMPER on November 1st. They were ultimately released on November 30th, with the SELECT 7 election beginning the day before (due to early "furage" releases of the singles in certain stores).
On December 27th, Yuki held the concert, Kashiwagi Yuki Nari no WACK EXHiBiTiON AND SELECT 7 at Tokyo Dome, in which the results of the election were announced. While this would be her last time performing with each respective WACK group, it was confirmed that, as well as a producer, she would also be a member of the new shuffle group. As per the results of the election, the remaining members for her new group were revealed as Yui Ga Dockson, Tsukino Usagi, Terashima Yuka, Hashiyasume Atsuko, Yamamachi Miki, Yumeno Yua and Cent Chihiro Chittiii.
2022
On January 15th, it was reported that Kashiwagi had developed coronavirus, and would need to halt all activities again.
Profile
WACK Stage Name: Yuki Reysole (ユキ・レイソレ)
Birth Name: Kashiwagi Yuki (柏木由紀)
Nickname: Yukirin (ゆきりん)
Catchphrase: Nete mo samete mo Yukirin WAARUDO, muchuu ni sasechau zo♪ Yukirin koto Kashiwagi Yuki desu. Yoroshiku onegai shimasu (寝ても覚めてもゆきりんワールド、夢中にさせちゃうぞ♪ ゆきりんこと柏木由紀です。よろしくお願いします; Whether asleep or awake it's Yukirin world, I'll make you dazed♪ I'm Kashiwagi Yuki also known as Yukirin. Please be nice to me)
Date Of Birth: July 15, 1991 (age 30)
Western Zodiac: Cancer
Eastern Zodiac: Goat
Birthplace: Kagoshima
Bloodtype: B
Height: 164 cm
WACK status:

2021.04.09: Joined BiS, BiSH, GO TO THE BEDS, PARADISES, EMPiRE, MAMESHiBA NO TAiGUN and ASP.
2021.12.27: Left the seven main WACK groups and joined an unnamed shuffle group.

MAMESHiBA NO TAiGUN Colour: ■ Yellow
WACK Groups:

BiSH (2021)
BiS (2021)
GO TO THE BEDS (2021)
PARADISES (2021)
EMPiRE (2021)
MAMESHiBA NO TAiGUN (2021)
ASP (2021)
TBA (2021-)

Other Groups:

AKB48 (Team B) (2006–Present)
NMB48 (Team N) (2014-2015)
NGT48 (Team NIII) (2015-2019)

Total time in WACK: 0 Years, 9 Months, 17 Days
Discography
See Kashiwagi Yuki Discography Featured In
Singles
Songs
Publications
Books Written
Home Video Releases
Solo DVDs
Media Appearances
Films
Stage Plays
Dramas
[2010] Majisuka Gakuen – Black
[2011] Sakura Kara no Tegami – Yuki
[2011] Majisuka Gakuen 2 – Black
[2011] Hanazakari no Kimitachi e〜 Ikemen☆ Paradise〜 (花ざかりの君たちへ〜イケメン☆パラダイス〜) – Kishinosato Juri
[2013] TAGAARIN – Ejima Chihiro
[2013] Mieriino Kashiwagi – Yuki
[2013] So Long! (Special Drama)
[2013] Yorozu Uranaidokoro Onmyoya e Yokoso (よろず占い処 陰陽屋へようこ) – Ayukawa Tamaki
[2013] Fortune Cookies
[2014] Kurofuku Monogatari (黒服物語)
[2018] Segodon (西郷どん) - Saigo Sono
[2018] Kono Koi wa Tsumi Nanoka!? (この恋はツミなのか!?)
[2020] Azatokute Nani ga Warui no? (あざとくて何が悪いの?)
Variety Shows
Games
Lyricist Credits
Solo Concerts
Oneman Lives
Tours
Trivia
Her WACK stage name was a reference to the football team, Kashiwa Reysol.
Out of all past and present WACK idols, she has the most idol experience, debuting in 2007.
Claims to want to stay in AKB48 until she's at least 30, and wants to remain an idol until at least 40.
Is referred to as AKB48's "Gravure Queen". Other nicknames she has received includes "Giraffe" (due to her long neck) "Rain Woman" (due to how it frequently rains when she performs) and "Black-Hearted Woman" (due to her icy personality shown on AKBINGO!).
Auditioned for Morning Musume's 8th generation, and failed her first two AKB48 audition attempts.
Says the WACK group she is most looking forward to joining is PARADISES, but she got along best with the members of GO TO THE BEDS.
Was given a yellow image colour for MAMESHiBA NO TAiGUN, but for all other WACK units that incorporated member colours (BiSH, GO TO THE BEDS, PARADISES) she was not assigned any specific colour. It could be assumed that her MAMESHiBA yellow may be used across groups, however, Momoko Gumi Company from BiSH and Changbaby from GO TO THE BEDS also used yellow as their designated colour at the time.
External links