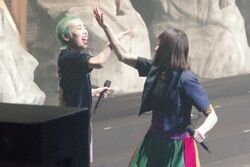 The Rental Trade was a 2017 stunt in which, for ten months, GANG PARADE member Kamiya Saki and BiS member Aya Eightprince traded groups for ten months.
On March 30th, 2017, during the first WACK EXHiBiTiON, Watanabe Junnosuke announced that Kamiya Saki and Aya Eightprince would trade places for six months; Aya Eightprince would join GANG PARADE and Kamiya Saki would rejoin BiS (Saki had previously been a BiS member during their first-generation). The trade period officially began on May 1st.
Kamiya Saki's first release upon rejoining BiS was SOCiALiSM on May 30th, while Aya Eightprince's was Beyond the Mountain on July 25th.
On August 16th, it was announced that due to the release of Kamiya's second single I can't say NO!!!!!!! being delayed to October, the rental trade would be extended indefinitely.
On October 2nd, both Kamiya Saki and Aya Eightprince joined the shuffle unit SAiNT SEX.
From October to November, both BiS and GANG PARADE held a joint tour, HELL!! CLASH!! BREAK!!! A photobook documenting the tour was later released.
On December 8th, Watanabe announced during WACK Fes that the rental trade would be reversed at the end of BiS' CHALLENGE THE LiMiT tour.
On March 4th, the trade officially came to an end in a joint ceremony between BiS and GANG PARADE, with Kamiya Saki rejoining GANG PARADE and Aya Eightprince rejoining BiS.
The final release of the rental trade, WHOLE LOTTA LOVE / DiPROMiSE, was released on March 7th, two days after the trade officially ended. The single also served as a finale for the trade, with Aya Eightprince returning on the track "WHOLE LOTTA LOVE" without Saki (and Pour Lui, who had graduated from BiS at the same show that the rental trade ending ceremony occurred).
Releases During The Trade
Edit
GANG PARADE
Edit
Other/Joint
Edit
Community content is available under
CC-BY-SA
unless otherwise noted.