m

Line 1:
Line 1:
 

{{Template:Infobox member

 

{{Template:Infobox member

−

|image = [[Image:KaedeMONSTERIDOL.png|200px]]

+

|image = [[Image:.|200px]]

−

|jpnname = カエデ

+

|jpnname = カエデ

 

|birthdate = April 4th, 1998 (Age 21)

 

|birthdate = April 4th, 1998 (Age 21)

 

|birthplace = Hokkaido

 

|birthplace = Hokkaido

−

|name = KAEDE

+

|name = KAEDE

 

|audition = [[MONSTER IDOL]]

 

|audition = [[MONSTER IDOL]]

−

|occupation = |years active = 2015-Present|group = [[MAMESHiBA NO TAiGUN]]|socialmedia = [https://twitter.com/KAEDEMAMESHiBA_ Twitter]|member color = <span style="color:purple">'''■'''</span> Purple <br><span style="color:lightblue">'''■'''</span> Light Blue <small>(As part of SAPPORO Snow♥Loveits)</small>|bloodtype = AB|height = 163cm|othernames = Tanigaki Kaede (谷垣楓)}}

+

|occupation = |years active = 2015-Present|group = [[MAMESHiBA NO TAiGUN]]|socialmedia = [https://twitter.com/KAEDEMAMESHiBA_ Twitter]|member color = <span style="color:purple">'''■'''</span> Purple <small> </small>

 
+

<br><span style="color:lightblue">'''■'''</span> Light Blue <small>(SAPPORO Snow♥Loveits)</small>|bloodtype = AB|height = 163cm|othernames = Tanigaki Kaede (谷垣楓), Kaede (カエデ)}}

⚫
 
 
+

[[File:KaedeMONSTERIDOL.png|thumb|270x270px|[[MONSTER IDOL]] Profile]]

−

'''Kaede''' (カエデ), real name '''Tanigaki Kaede''' (谷垣楓), is a Japanese idol as part of [[WACK]]. She is a member of [[MAMESHiBA NO TAiGUN]].

+

'''Kaede''' (カエデ), real name '''Tanigaki Kaede''' (谷垣楓), is a Japanese idol as part of [[WACK]]. She is a member of [[MAMESHiBA NO TAiGUN]].

 
 
 

Prior to joining WACK, she was a member of [https://idolstreet.fandom.com/wiki/IDOL_Street iDOL STREET]'s trainee units, [https://idolstreet.fandom.com/wiki/Street-sei Street-sei] and [[SAPPORO Snow♥Loveits]].

 

Prior to joining WACK, she was a member of [https://idolstreet.fandom.com/wiki/IDOL_Street iDOL STREET]'s trainee units, [https://idolstreet.fandom.com/wiki/Street-sei Street-sei] and [[SAPPORO Snow♥Loveits]].

⚫
 
 
 
 

== Biography ==

 

== Biography ==

Line 17:
Line 17:
 
 
 

From November to December of 2019, Kaede was a participant in the reality series [[MONSTER IDOL]], but was not chosen to join [[MAMESHiBA NO TAiGUN]] in the final episode. However, at their debut live on December 25th, [[Watanabe Junnosuke]] announced that he had decided to let Kaede join the group after all.

 

From November to December of 2019, Kaede was a participant in the reality series [[MONSTER IDOL]], but was not chosen to join [[MAMESHiBA NO TAiGUN]] in the final episode. However, at their debut live on December 25th, [[Watanabe Junnosuke]] announced that he had decided to let Kaede join the group after all.

 
+
 
+

On January 1st, Kaede's full stage name was revealed as Kaede Phoenix.

 
 
 

== Personal Life ==

 

== Personal Life ==

Line 39:
Line 41:
 

* Claims her charm point is her soft cheeks.

 

* Claims her charm point is her soft cheeks.

 

* Her favourite idol group is Cheeky Parade.

 

* Her favourite idol group is Cheeky Parade.

 
+
 
+

== Gallery ==

 
+

<gallery>

 
⚫
 
⚫
 
+

</gallery>

 

[[Category:MONSTER IDOL]]

 

[[Category:MONSTER IDOL]]

 

[[Category:Boot Camp Finalists]]

 

[[Category:Boot Camp Finalists]]
---
Revision as of 13:09, 1 January 2020
KAEDE PHOENiX
Japanese

カエデフェニックス

Other Names

Tanigaki Kaede (谷垣楓), Kaede (カエデ)

Birthdate

April 4th, 1998 (Age 21)

Birthplace

Hokkaido

Bloodtype

AB

Height

163cm

Professional Information

Group
Member Color

■ Purple MAMESHiBA NO TAiGUN
■ Light Blue (SAPPORO Snow♥Loveits)

Audition Camp(s)
Years Active

2015-Present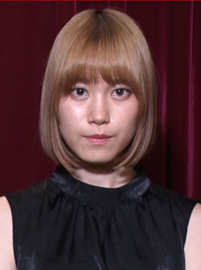 Kaede Phoenix (カエデフェニックス), real name Tanigaki Kaede (谷垣楓), is a Japanese idol as part of WACK. She is a member of MAMESHiBA NO TAiGUN.
Prior to joining WACK, she was a member of iDOL STREET's trainee units, Street-sei and SAPPORO Snow♥Loveits.
Biography
In 2015 Tanigaki Kaede became an 8th generation member of street-sei, a trainee unit under the iDOL STREET label, and its subgroup, SAPPORO Snow♥Loveits. She graduated from SAPPORO Snow Loveits and street-sei on June 30th, 2016.
From November to December of 2019, Kaede was a participant in the reality series MONSTER IDOL, but was not chosen to join MAMESHiBA NO TAiGUN in the final episode. However, at their debut live on December 25th, Watanabe Junnosuke announced that he had decided to let Kaede join the group after all.
On January 1st, Kaede's full stage name was revealed as Kaede Phoenix.
Personal Life
Is currently a university student.
Discography
SAPPORO Snow♥Loveits
Songs
[2013.xx.xx] PAPAPA Pastel Color (PAPAPAパステルカラー)
[2014.xx.xx] KIMI e Start! (KIMIへスタート!; Start to YOU!)
[2015.xx.xx] Gotsugo Onnanoko (ご都合女の子; Convenient Girl)
Television
Trivia
Was a member of street-sei and SAPPORO Snow♥Loveits at the same time as Nao.
Her hobby is watching movies.
Became an idol fan after watching SUPER☆GiRLS on television in 6th grade.
Claims her charm point is her soft cheeks.
Her favourite idol group is Cheeky Parade.
Gallery
Community content is available under
CC-BY-SA
unless otherwise noted.