ISHiMURA AOi
Japanese

石村碧

Nickname

Pi-chan

Other Names

Terayama Yufu (テラヤマユフ), Aono (あおの)

Birthdate

April 20, 1999 (1999-04-20) (age 21)

Zodiac

Taurus

Height

163cm

Professional Information

Audition Camp(s)
Occupation

Actress

Years Active

2017-Present

Links

Twitter
Instagram
Merch Store (Gone)
Ishimura Aoi, (石村碧), also known as Aono (あおの) and Terayama Yufu (テラヤマユフ) is a Japanese actress. She was a finalist in the WACK AUDiTiON CAMP 2017, and a finalist in Miss iD 2018.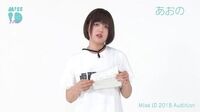 Biography
Edit
From March 28th to April 2nd, Ishimura Aoi participated in the WACK AUDiTiON CAMP 2017 under the name "Terayama Yufu".
On April 2nd, despite lasting the entirety of the boot camp, it was announced during WACK EXHiBiTiON that she had not been chosen to debut. Afterward, she opened a twitter account, thanking fans for their support.
Soon after, Ishimura Aoi entered Miss iD under the name, "Aono", where she eventually made it into the top 10. During much of her Miss iD campaign, she used her experience in the WACK audition as a means of promotion, saying that she "has been possessed by the ghost of Terayama Yufu ever since".
After juggling school and Miss iD events througout 2017 and 2018, Aono suddenly went on hiatus on November 26th, stating that the internet had been negatively affecting her mental health.
On January 24th, Aono returned to social media but left her twitter private for several months afterward.
On March 9th, Aono announced that she had signed with the agency GUIDANCE Inc. intending to be an actress, and would be performing under her real name, "Ishimura Aoi" from now on.
Ishimura's first starring role was published online on March 29th. It was a short film about the lives of different young women during the March 2020 coronavirus lockdown, titled "Mask wo Shita Onna no Ko-tachi".
Personal Life
Edit
She graduated from high school in Spring 2018.
Name: Ishimura Aoi (石村碧)
Other Names: Aono (あおの)
WACK Audition Name: Terayama Yufu (テラヤマユフ)
Birthdate: April 20th, 1999 (age 21)
Height: 163cm
Western Zodiac: Taurus
Eastern Zodiac: Rabbit
Audition: WACK AUDiTiON CAMP 2017
Loves instruments and is learning how to play bass, drums and saxophone.
For a period of time, her twitter username was "@314_1592653589", a reference to how she was saved from elimination during the WACK audition by memorizing the most pi digits.
Was in Miss iD the same year as Tsukino Usagi.
Her audition name was a parody of Terashima Yufu. She shares this name with Terashima Yuka, who was also one of her mentors during the WACK audition. NOW EMPiRE later used the same name.
Her favourite food is corned beef.
Community content is available under
CC-BY-SA
unless otherwise noted.