is escape
Album by MIKINORME
Release Date

February 5th, 2014

Format

CD, Digital

Genre

Alternative Rock

Label

Sexy Stones Records

Catalogue Number

VKCF-1002

Album Chronology
Previous

N/A

Next
Is escape is MIKINORME's first album. It is also the only album to be released as a band, as opposed to Yashiro Yuka working solo, and the only album under the name "MIKINORME".
Tracklist
Edit
AKANESASE
SOKUBAKU
Kakusei to Kokuhaku (覚醒と告白; Awakening and Confession)
and more!!
Sekigae (席替え; Change Seats)
Kanchigai (勘違い; Misunderstanding)
MACHIGAI TO JAZZMASTER
Amai (あまい; Sweet)
FridgeeZooHogen
Hoopla 9 (フープラ9)
Nigai (にがい; Bitter)
OTOTOI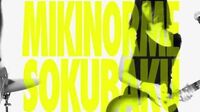 Featured Members
Edit
Yashiro Yuka (Guitar, vocals)
Ishikura Yui (Bass, only album)
Suzuki Miho (Drums, only album)
Album info
Edit
All composition and lyrics by Yashiro Yuka. Arrangement by Unehara Fumiaki.
External Links
Edit
Community content is available under
CC-BY-SA
unless otherwise noted.