HUG ME
Japanese

ハグ・ミィ

Nickname

Miichan (みぃちゃん), Midoringo (みどりんご)

Other Names

Kisemimori (貴瀬美守), Amatani Midori (雨谷碧莉)

Birthdate

September 11, 1990 (1990-09-11) (age 29)

Zodiac

Virgo

Height

151cm

Professional Information

Years Active

2011-2016

Associated Acts

BiSH, AKIHABARA BACKSTAGE PASS, DearStage

BiSH Information

Color

■ Pink

Date Joined

March 9th, 2015

Date Left

June 2nd, 2016

Debut Release
Final Release
Time in Group

1 year, 2 months, 24 days
Hug Me
(ハグ・ミィ), real name
Amatani Midori
(雨谷碧莉), is a former member of
BiSH
.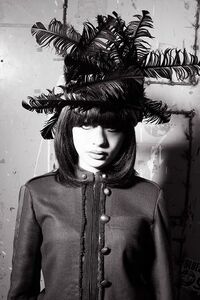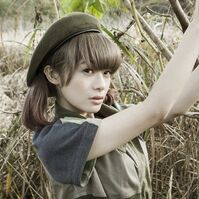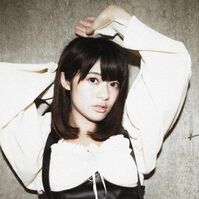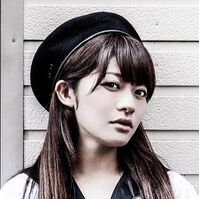 Biography
Edit
On December 23rd, 2011, Amatani Midori began working at the idol cafe, AKIHABARA BACKSTAGE PASS, as a first-generation member.
On May 1st, Midori also joined AKIHABARA BACKSTAGE PASS' official idol group, Bakusute Sotokanda Icchome.
On August 1st, Midori was included on Bakusute Sotokanda Icchome's debut single, Produce, although she was not featured on the cover or given any solo lines.
On September 30th, Amatani Midori graduated from both AKIHABARA BACKSTAGE PASS and Bakusute Sotokanda Icchome and began working at DearStage instead, under the name "Kisemimori".
On March 9th, Amatani Midori was announced as a founding member of BiSH, joining under the stage name, Hug Me.
Hug Me's first release with BiSH, Spark, was released on March 25th.
Hug Me's first album, Brand-new idol SHiT, was released on May 27th.
On September 2nd, Hug Me's first single as a member of BiSH, OTNK, was released.
From October 15th, Hug Me began writing a column, "Dopuroland" (a pun on the theme park "Sanrio Puroland" and "Dopyuu", a slang term for squirting during orgasm) for the pornography site HMJM Pornograph. In the column, she talked about taking part in activities such as getting a Brazilian wax and reviewing porn videos.
Hug Me's final single and only major release, DEADMAN, was released on May 4th.
On May 16th, Hug Me announced that she would be graduating from BiSH and WACK, due to a family emergency.
Hug Me's final performance took place on June 2nd, after which she retired from entertainment.
Personal Life
Edit
After graduating from BiSH, Hug Me worked for Hapila, a manga-themed stationery company. She would occasionally appear at conventions to sell their products.
Name: Amatani Midori (雨谷碧莉)
WACK Stage Name: Hug Me (ハグ・ミィ)
Other Stage Names: Kisemimori (貴瀬美守)
Birth Date: December 27th, 1994 (age 25)
Birthplace: Osaka, Japan
Height: 159cm
Nickname: Miichan (みぃちゃん), Midoringo (みどりんご)
Western Zodiac: Virgo
Eastern Zodiac: Horse
WACK status:

2015.03.09: Joined BiSH
2016.06.02: Graduated

BiSH Colour: ■ Pink
WACK Groups:
Other Groups:

Bakusute Sotokanda Icchome (2012)
Discography
Edit
Publications
Edit
Lyrics Written
Edit
After her graduation, her pink member colour was given to Lingling.
Is a big Hello! Project fan.
Likes porn, especially the Sex Cannonball Run series which ultimately inspired WACK's own Idol Cannonball series of documentaries.
Community content is available under
CC-BY-SA
unless otherwise noted.