HASHiYASUME ATSUKO
Japanese

ハシヤスメ・アツコ

Nickname

Acchan (アッチャン)

Other Names

Kuramoto Aoi (倉本あおい)

Birthdate

September 27, 1990 (1990-09-27) (age 29)

Zodiac

Libra

Birthplace

Fukuoka

Professional Information

Group
Fanbase Name

Hasicks

Audition Camp(s)

WACK AUDiTiON CAMP 2017 (Mentor)

Years Active

2013-present

Associated Acts
Genre

J-Pop

Links

BiSH Information

Role

Glasses Member (メガネ担当)

Color

■ Purple

Date Joined

August 5th, 2015

Debut Release
Time in Group

5 Years, 0 Months, 12 Days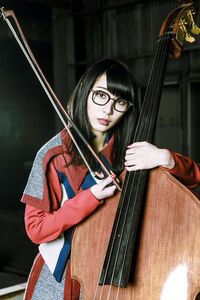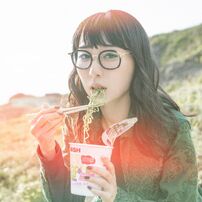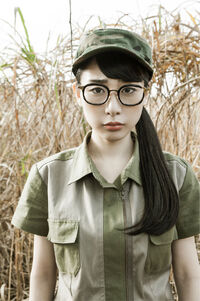 Hashiyasume Atsuko (ハシヤスメ・アツコ), real name Kuramoto Aoi (倉本あおい), is a Japanese idol under WACK. She is a member of BiSH.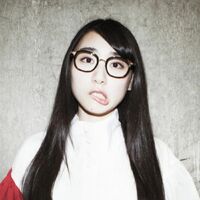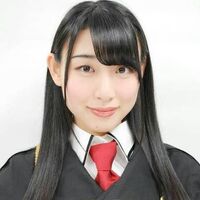 Biography
Edit
On July 4th, 2013, Kuramoto Aoi joined the underground idol group, Fleur*.
Aoi's only single with Fleur*, Tsuki Koi Regret, was released on November 12th.
Fleur* disbanded on August 30th.
In January, Kuramoto Aoi auditioned for BiSH, but did not pass. She tried again the following Summer.
On August 1st, Kuramoto Aoi joined BiSH, under the stage name Hashiyasume Atsuko.
Hashiyasume Atsuko's first single OTNK, was released on September 2nd.
On January 20th, Hashiyashume Atsuko's first album, FAKE METAL JACKET, was released.
From March 28th to April 2nd, Hashiyasume Atsuko participated in the WACK AUDiTiON CAMP 2017 as a mentor.
On December 31st, Hashiyasume Atsuko ranked 15th in the WACK General Election.
On December 22nd, it was announced at BiSH's BRiNG iCiNG SHiT HORSE Tour finale that Hashiyasume Atsuko would have a solo debut in 2019.
Hashiyasume Atsuko's solo single, à la mode, was released on July 23rd.
Personal Life
Edit
Hashiyasume Atsuko was born in Fukuoka prefecture on September 27th, 1990.
Growing up, she attended a performing arts school which piqued her interest in becoming an idol. As her family disapproved of her goal, she would fake letters of consent from her parents when applying to idol groups underage. Upon graduating from high school, Hashiyasume moved to Tokyo to pursue her goal.
Before joining BiSH, she worked at Haneda Airport and lived in the staff dorm to save money.
Name: Kuramoto Aoi (倉本あおい)
Stage Name: Hashiyasume Atsuko (ハシヤスメ・アツコ)
Birth Date: September 27, 1990
Birthplace: Fukuoka, Japan
Nickname: Acchan (アッチャン)
Western Zodiac: Libra
Eastern Zodiac: Horse
BiSH Role: Glasses Member (メガネ担当)
WACK status:
BiSH Colour: ■ Purple
WACK Groups:
Other Groups:
Overall Time in WACK: 5 Years, 0 Months, 12 Days
Discography
Edit
See Hashiyasume Atsuko Discography Featured In
Publications
Edit
Other Media
Edit
Web Series
Edit
Lyrics Written
Edit
A portion of each BiSH member's wages goes towards funding Hashiyasume's glasses. She has several pairs of varying price.
Has stated that she will be fired if she ever removes her glasses.
She did not wear glasses in her previous idol groups.
Is the first BiSH member that did not rank in the top three of the WACK General Election to get a solo release.
Community content is available under
CC-BY-SA
unless otherwise noted.