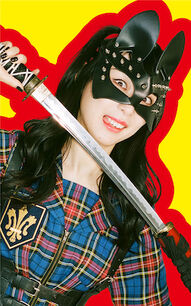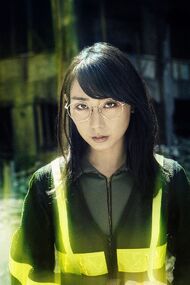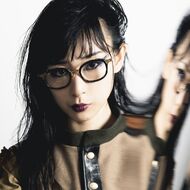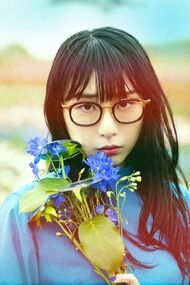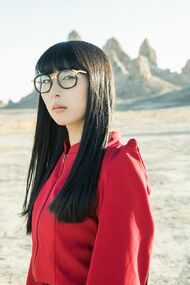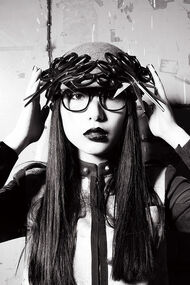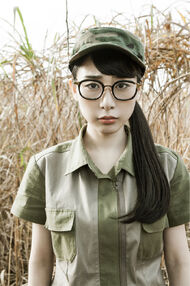 Hashiyasume Atsuko (ハシヤスメ・アツコ), formerly known as Kuramoto Aoi (倉本あおい), is a Japanese idol and actress. She is a member of the WACK group, BiSH, joining in 2015, alongside Lingling. Prior to her involvement with WACK, she was part of the chika idol group, Fleur*.
Biography
Early career, 2013-2014
On July 4th, 2013, Kuramoto Aoi joined the underground idol group, Fleur*. Her first and only single with the group, Tsuki Koi Regret, was released on November 12th. Fleur* ultimately disbanded the following year, on August 30th.
2015
In January, Kuramoto Aoi auditioned for BiSH, but did not pass. She tried again the following Summer and succeeded. She was revealed as a new member of BiSH on August 1st alongside Lingling, and changed her name to Hashiyasume Atsuko. Her first performance with BiSH took place at TOKYO BiSH SHiNE on August 26th. Eight days later, on September 2nd, her first BiSH single, OTNK, was released.
2016
On January 20th, Hashiyashume Atsuko's first album, FAKE METAL JACKET, was released. Soon after, BiSH announced their major-label debut.
2017
From March 28th to April 2nd, Hashiyasume Atsuko participated in the WACK AUDiTiON CAMP 2017 as a mentor.
During the WACK General Election, which took place on December 21st, Hashiyasume ranked in 15th place.
2018
During BiSH's BRiNG iCiNG SHiT HORSE TOUR FiNAL "THE NUDE" performance on December 22nd, Hashiyasume Atsuko's solo debut was announced for the following year.
2019
Hashiyasume Atsuko's solo single, à la mode, was released on July 23rd. Included as a B-side was a solo self-cover of Shakai no Rule, one of the first BiSH songs that she ever wrote lyrics to in 2016.
2021
In addition to her activities in BiSH, Hashiyasume Atsuko also embarked on an acting career through early 2021, starting with the second episode of the TV Osaka late night drama series, "Keikan Ensen Monogatari 〜 Kominka Minshuku Kizuna-ya Emasu 〜". She guest-starred as Mizuno Emi, a "modern and active girl who loves social media". In February, Atsuko announced two acting roles; Her first was as a ghost in a series of commercials for the brand, Cycler. Soon after, Atsuko announced that she would be starring in a lead role in the drama, "Boku to Tsuchinoko no 1-Kagetsu", playing the titular "Tsuchinoko".
In mid-June, Hashiyasume, along with every other active WACK member at the time, joined the shuffle unit, Dogenzaka43. Her only single as part of the group, Kyouniku Jakushoku ~Tsuyoi Yatsura wo Kucchimae~, was released on June 16th.
On August 9th, it was announced that Hashiyasume had tested positive for COVID-19, and was required to take a break from activities while she recovered. Cent Chihiro Chittiii and Aina The End had also been infected with the disease. After making a full recovery, Hashiyasume resumed activies on September 1st.
On December 24th, BiSH announced that they would disband in 2023. Three days later, Hashiyasume ranked fourth in the VOTE! WACK SELECT 7 general election, securing her place in a new shuffle group produced by Kashiwagi Yuki.
2022
In early January, Hashiyasume Atsuko made a guest appearance on the TV drama series, "Fight Song"[1]. Her episode aired on the 25th.
Personal Life
Hashiyasume Atsuko was born in Fukuoka prefecture on September 27th, 1990.
Growing up, she attended a performing arts school which piqued her interest in becoming an idol. As her family disapproved of her goal, she would fake letters of consent from her parents when applying to idol groups underage. Upon graduating from high school, Hashiyasume moved to Tokyo to pursue her goal.
Before joining BiSH, she worked at Haneda Airport and lived in the staff dorm to save money.
Profile
Name: Kuramoto Aoi (倉本あおい)
Stage Name: Hashiyasume Atsuko (ハシヤスメ・アツコ)
Birth Date: September 27, 1990 (age 31)
Birthplace: Fukuoka, Japan
Nickname: Acchan (アッチャン)
Western Zodiac:  Libra
Eastern Zodiac: Horse
BiSH Role: Glasses Member (メガネ担当)
WACK status:

2015.08.01: Joined BiSH
2023: BiSH disbands

BiSH Colour: ■ Purple
WACK Groups:
Other Groups:
Overall Time in WACK: 6 Years, 5 Months, 25 Days
Discography
Publications
Filmography
Documentary
Web Series
TV Drama
[2021.01.09] Keikan Ensen Monogatari 〜 Kominka Minshuku Kizuna-ya Emasu 〜 (京阪沿線物語~古民家民宿きずな屋へようこそ~; Keihan Railway Story ~Welcome to Kizuna-ya, an Old Private Home~)
[2021.03.05] Boku to Tsuchinoko no 1-Kagetsu (ボクとツチノ娘の1ヶ月; A Month of Myself And The Tsuchino Girl)
[2022.01.25] Fight Song (ファイトソング)
Lyricist Credits
Trivia
Has stated that she will be fired if she ever removes her glasses.
She did not wear glasses in her previous idol groups.
Is the first BiSH member that did not rank in the top three of the WACK General Election to get a solo release.
Shares her birthday with Kamiya Saki.
Gallery
References