HO6LA (prounounced "Homura") is a Japanese idol unit produced by first-generation BiS member, Ichigo Rinahamu. It includes another former BiS member, Pan Luna Leafy, of its second generation, as well as ex-PIGGS member, Hachimitsu Umi.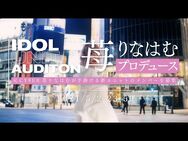 Members
History
On April 17th, 2021, Yokoyama Rina announced that she would be producing a new idol unit. In a teaser video for the group, Pan Luna Leafy was shown as a member. Auditions for additional members opened the same day, with a deadline of May 2nd. Following the deadline, each step of the audition was made public, as, in a similar vein to the Project WACK-Chin Audition, participants took part in challenges over Twitter, such as covering CY8ER's Summer, and being subject to popularity votes from fans. The audition culminated in the final 15 chosen competetors taking part in a 24-hour nonstop training camp. Footage from the camp was delivered to YouTube in weekly episodes on ICIGOSTYLE's YouTube channel.
On August 18th, the official line-up was revealed, along with the groups name, HO6LA. Among the starting line-up was Pan Luna Leafy, Hachimitsu Umi (ex-PIGGS), Kusunoki Roa, Wannyan Circuit DX!, Emiru and Wazurai. With the group now complete, HO6LA announced their first performance would take place at Shibya WOMB on September 12th.
During HO6LA's debut performance, they announced their first single, Pirikarira, which was released on October 26th.
2022
HOL6LA released the digital single, Boooost!!, on January 10th. They held their first oneman live on April 16th, where they announced their debut album, and a digital single, IDOL FIRE, the latter was released that midnight.
HO6LA's debut album, Sono Ichi, will be released on June 15th.
Discography
Album
Single
Digital Singles
Trivia
External Links