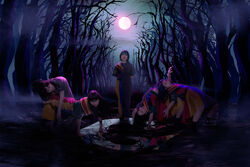 GO TO THE BEDS is a Japanese idol group under WACK, formed in March 2020, when GANG PARADE was split into two separate units.
It is made up of the five most senior members of GANG PARADE.
Members
History
On March 28th, 2020, it was announced at the end of the WACK AUDiTiON CAMP 2020 that GANG PARADE would be split into two groups, GO TO THE BEDS and PARADISES. Yamamachi Miki, Yumeno Yua, Can GP Maika, Yui Ga Dockson and Coco Partin Coco made up the starting lineup of GO TO THE BEDS.
Music videos for both groups and their debut livestreamed performances immediately followed, and GO TO THE BED's debut digital single, Don't go to the bed was released the following day, with the debut split EP of both groups distributed on April 1st.
On May 22nd, GO TO THE BEDS announced their debut album, also named GO TO THE BEDS, in two months time.
Discography
Albums
Singles