The Sandman Will Keep You Awake - The Loop
Play Sound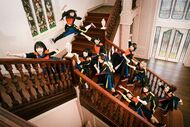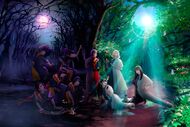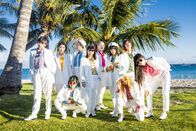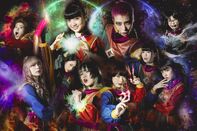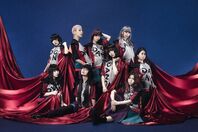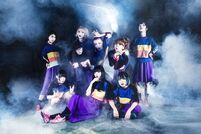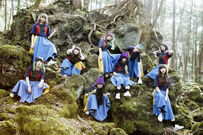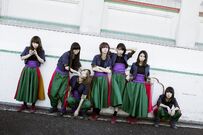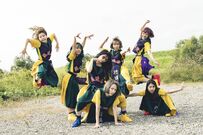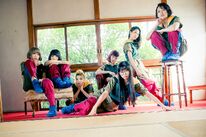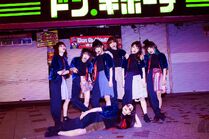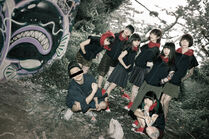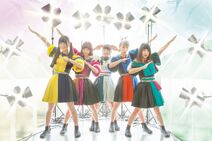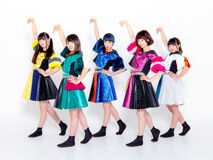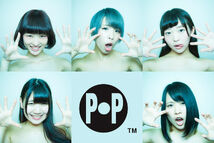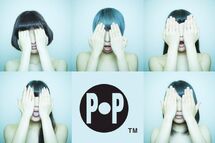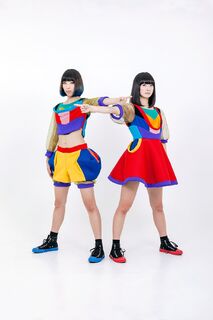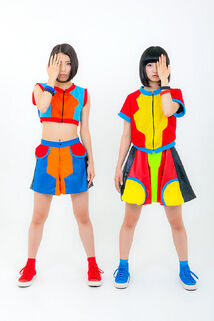 GANG PARADE (ギャングパレード), formerly Pla2me (プラニメ) and POP (ピオピ) is a Japanese idol group formed in 2014.
They were originally a duo consisting of Mizuta Mari and ex-BiS member Kamiya Saki, but rebranded following the former's graduation. Pla2me, alongside This is not a business, were the first artists to be signed to WACK.
In 2020, GANG PARADE split into two separate groups, GO TO THE BEDS and PARADISES. Following the split, the group underwent a hiatus period until their final concert and the graduation of Kamiya Saki could finally be held after delays due to the Coronavirus pandemic. At the beginning of 2022, they announced that they would restart activities.
Their catchphrase is "Minna no Asobiba" (みんなの遊び場; "Everyone's Playground").
As of WACK ROCKiN' PARTY, most groups have been given representative colours, as used in their costumes. GANG PARADE's colour is

blue.
Current Members
(See also GANG PARADE/Members)
Former Members
History
2014-2015: pla2me
The group was initially announced at BiS' disbandment live on July 8, under the name "pla2me" (pronounced "Planime") with former BiS member Kamiya Saki and soloist Mizuta Mari They held their first stage on August 2 & 3 at TOKYO IDOL FESTIVAL 2014.
Pla2me were themed around anime cosplay and the word "planimeter" - an instrument used to measure the area of a shape, in most cases one drawn using points on a map. The measurement motif came from the fact that Saki lived in Tokyo and Mari lived in Osaka.
In September they released their debut single, Plastic 2 Mercy. Their second single, UNIT, was released January 30, 2015.
On March 31, Mari announced her graduation and auditions to find new members was announced. Mari's graduation was ironically in part due to the distance between Osaka and Tokyo.
2015-2016: POP
The new members of Pla2me, Yamamachi Miki, Yumeno Yua, Shigusawa Ao and Inukai Maaya were announced at Mari's graduation live on May 31. At the same show, it was announced that Pla2me would change their name to POP (Period of Plastic 2 Mercy). This name was suggested by BiSH member Aina The End.
Their first album, P.O.P, was released August 8 and their first one-man live was held the next day at Tokyo Daikanyama UNIT.
In August, POP, along with their sister group BiSH, were kicked out of Tokyo Idol Festival due misbehavior from their fans. Shortly after, Kamiya Saki announced that she had been suspended from the group indefinitely due to repeatedly committing prohibited acts such as encouraging the fans to act rowdy while at TIF. Despite this, she appeared in the group's next single Happy Lucky Kirakira Lucky and it was announced that Kamiya would be allowed to return to POP if she successfully ran a 100km marathon.
On December 4 Kamiya completed the marathon with two hours to spare, and successfully re-joined the group.
They would release one more single as POP, QUEEN OF POP, on March 3, 2016.
2016-2018: Renaming to GANG PARADE and merging with SiS
In the summer of 2016, POP changed their name to GANG PARADE and released the single WE ARE the IDOL, which would turn out to be the final release with the POP-era lineup. The decision to change the name was due to the fact that trying to search the phrase "POP" on Twitter and the internet at large was near impossible due to how common of a word it is. The members themselves came up with the name, aiming to find something cool sounding. The words "GANG" and "PARADE" repeatedly came up, so the name GANG PARADE was chosen.
Shigusawa Ao graduated at their Tokyo Idol Festival show in August.
On October 1, Inukai Maaya announced her withdrawal due to family circumstances.
The group held a one-man live Barely Last TOUR the same month in Nagoya and Osaka, showing off new member Can Maika.
On November 8, 2016, GANG PARADE released their second album Barely Last. A week later, following the sudden breakup of SiS, members Terashima Yuka, Yui Ga Dockson, and Coco Partin Coco joined the group,
To celebrate the new era of GANG PARADE, their first single Plastic 2 Mercy was re-released December 27 with updated vocals. It was followed by FOUL in April 2017.
Kamiya Saki/Aya Eight Prince Rental Trade and further changes, 2017-2018
March 2017, at the WACK Exhibition, it was announced that Kamiya Saki and BiS member Aya Eightprince would trade places until September 2017. This was later extended to March 2018.
Aya's first single, Beyond the Mountain was released July 25, and on November 21 they released their third album, GANG PARADE takes themselves higher!!
In February 2018, GANG PARADE released the single BREAKING THE ROAD, released in February.
On March 4, Aya Eightprince and Kamiya Saki were swapped back to their former groups. Also in March, a joint WACK audition was held and Maika joined the boot camp as an advisor.
At the end of the audition, it was announced that Tsukino Usagi and Haruna Bad Chiiiin would join GANG PARADE. Their first single, as well as Kamiya's comeback single, GANG 2, was released on May 29. Not long after, their eleventh single, CAN'T STOP, was announced for a September release.
On September 20, GANG PARADE announced their fourth album, LAST GANG PARADE and their first blu-ray, GANG PARADE oneman live at Zepp Tokyo. The title was a reference to the phrase "last man standing" and that this would be their last album on T-Palette records, with physical editions coming with a bonus track "PALET" written as a goodbye to the label.
Major debut, 2019
On January 10, during the opening show of the GOING GOING WACK Tour, GANG PARADE announced that they had signed with FUELED BY MENTAIKO, a Warner Music Japan subsidiary, and would release their first major single in April. Further details on the single, BRAND NEW PARADE, were later released in March.
On March 30, it was announced at the WACK EXHiBiTiON that WAgg trainee Naruhaworld would join GANG PARADE. While she joined prior to the release of BRAND NEW PARADE, she would not take part in the single due to the song and promotional material having already been recorded.
As promo for BRAND NEW PARADE, GANG PARADE held a special event called GANG PARADE 999. The members appeared at various venues in cosplay, and the member who recieved the most attention on social media would recieve a solo song. Kamiya Saki won and would later go on to have "still..." released in November.
In April, GANG PARADE provided several tracks for the PC and mobile game "Magicami". The track "Hontouni Boku ga Ikitakatta no wa Konnan ja mu e!" would be the game's theme song, and three additional tracks would be used as insert songs throughout the game. These songs will be released on an extended play, THE MUSIC AND THE GAME CREATES MAGIC, on June 19.
On July 8, 2019, GANG PARADE announced through a live stream that they would release their first major album, LOVE PARADE, in November, and a concert blu-ray of their CHALLENGE the LIMIT TOUR in September. Another blu-ray release, PARADE GOES ON TOUR at Nakano Sunplaza, was also announced for February 29, 2020.
From August 25 to September 1, at Tokyo Metropolitan Theater, the group starred in the musical Playhouse written by Nemoto Shuko. A solo performance in Osaka was held at Morinomiya Piloti Hall on September 28.
LOVE PARADE was released on November 14, with early streaming on September 22nd. LOVE COMMUNICATION was released as a digital promo single on August 31, with the music video shot in Hawaii as a reward for their GANG PARADE 999 promo event.
As promo for LOVE PARADE, the group appeared in the contest STARTERS MATCH, a contest dedicated to promoting the use of streaming services in Japan. Themed around new artists, with GANG PARADE being considered a new artist due to their major debut, the goal was to stream certain songs as much as possible with the artist with the most streams being given the oppertunity to have their own. The music video for Lovu, lead song from LOVE PARADE, was entered and mysteriously climbed to over 2 million views in a few days despite a lack of comments. The group won the contest and were rewarded with a solo show on December 8.
LOVE PARADE became their highest charting album, peaking at second on the Oricon charts.
Lineup Changes And Eventual Split, 2020
On January 3, 2020, founding member and leader Kamiya Saki announced that she would graduate from GANG PARADE at the end of their first hall tour.
GANG PARADE released the double A-side single, Namida no Stage / FiX YOUR TEETH on January 29, in a collaboration between Matsukuma Kenta and famous producer Hyadain.
On February 20, Haruna Bad Chiiiin suddenly withdrew from the group just a few hours prior to a concert, without giving any explanation. A week later, GANG PARADE won "Best New Artist" at the 35th Gold Disc awards.
A mini-album, titled GP? was guerilla-released to TOWER RECORDS stores on March 17. It was seemingly released by GANG PARADE, however, no credits, song titles or metadata were given on the release. Despite this, due to public song copyright registries, some fans were able to find out the song names in addition to another song, theorised to be a Saki solo due to her lack of vocals on the other tracks.
On March 28 at the climax of the 2020 WACK AUDiTiON CAMP, WAgg member Kila May was promoted to GANG PARADE. Straight after, it was announced that GANG PARADE would split into two separate groups, effective immidiately; GO TO THE BEDS, (Yamamachi Miki, Yumeno Yua, Can GP Maika, Yui Ga Dockson and Coco Partin Coco) and PARADISES (Terashima Yuuka, Tsukino Usagi, Naruhaworld and Kira May). The decision to break up and form into two smaller groups was mutual between producer Watanabe Junnosuke and the members based on a number of differing factors. Saki felt that after she came back from the rental trade, she wasn't doing enough to lead the group who had become something different when she returned, the other members felt that as more members added they were losing their vigor and weren't reaching their goals. There was also the aspect of being less financially successful compared to other groups that formed around the same time. In an interview, Yumeno Yua described it as "Honestly, I think no one could see anything ahead after GANPARE's Nakano Sunplaza. We had a lot of goals we kept putting into words but, there was no reality to them."
On April 1, the previously-released "GP?" mini-abum was rereleased as G/P, a split single between the two groups (also containing a solo by Kamiya Saki).
A crowdfunding campaign for Saki's final show was held and surpassed the twenty million yen goal. The show itself was postponed due to the Coronavirus pandemic and restrictions on public events imposed in Japan. GO TO THE BEDS and PARADISES kept promoting as themselves and Saki started her post-idol career as a freelance choreographer.
Final Performance, 2021
On April 8, 2021, GANG PARADE's twitter posted for the first time in several months, "ギャンパレ say hello" - the opening line from Plastic 2 Mercy. Several hours later, it announced that GANG PARADE would finally reunite for one last performance with Saki, titled, "FOREVER GANG PARADE FOREVER!!". Taking place at Nakano Sunplaza exactly one year since Kamiya Saki left and the group went on hiatus.
On May 22nd, the performance was held albeit split into two smaller performances due to Corona restrictions. GANG PARADE have officially ended. While GANG PARADE were effectively no longer a group, the ex members mentioned carrying the spirit of the group with them while simultainiously not wanting to rely on it's history as a crutch, so GANG PARADE will never truly have disappeared completely.
Comeback, 2022
On January 1st, 2022, GANG PARADE's official twitter hinted at an upcoming announcement by tweeting "Ganpare Say Hello". Soon after, they urged fans to read the newspaper with the hashtag #GyanpareShinbunKoukoku (ギャンパレ新聞広告; Gang Parade Newspaper Advertisement) and within some Japanese papers contained a full page spread with what appeared to be comeback song lyrics and a notice that "GANG PARADE Will Restart."
At 4:00am JST, the twitter then posted a video of the current GO TO THE BEDS and PARADISES members being handed a copy of the newspaper and an additional announcement that a live would be held on January 2nd. While they had joined GO TO THE BEDS and PARADISES after the split, Ca Non and Changbaby were also incorporated into GANG PARADE, essentially joining as new members. At midday, they announced their major second single, PARADE GOES ON would be released on March 9th.
At the end of the WACK AUDiTiON CAMP 2022 on March 26th, it was announced that WAgg trainee Ainastar and audition finalist Potential would both join the group. In addition, Naruhaworld would also rejoin, after having been on hiatus from all activities since before the two groups merged back. The debut performance of the updated GANG PARADE was scheduled to take place on May 13th. However, when half of the group contracted coronavirus just a few days before, the performance was cancelled. Despite this, the new members were unveiled officially, albiet through twitter, and a new single, SIGNAL, was announced.
Leading up to SIGNAL's pre-release on May 25th, GANG PARADE released a number of teaser videos, "WELCOME TO GANG PARADE", on twitter. Each video was a short introduction to each active member. On the 25th, a digital re-recording album, also called WELCOME TO GANG PARADE, was released, of which SIGNAL was included.
SIGNAL recieved a general release on July 13th.
On July 30th, GANG PARADE's digital EP, WELCOME TO GANG PARADE, recieved a limited DELUXE EDITION, with 41 additional songs added. To commemorate the release, GANG PARADE held an all-night livestreamed karaoke party. During the livestream, they announced their next single, Priority, would be announced on September 8th.
GANG PARADE will feature in the upcoming smartphone game, WACK ROCKiN' PARTY, which is set to be released later in the year.
Discography
Music Videos
Publications
Filmography
Live Video
Games
Smartphone Game
Card Game
Events
Trivia
Gallery
External Links