G/P
Album by GO TO THE BEDS, PARADISES, Kamiya Saki
Release Date

March 17th, 2020 (GP?)
April 1st, 2020 Official Release)

Format

CD, Blu-Ray

Genre

J-Pop

Label

Warner Music

Singles from G/P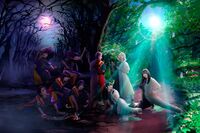 G/P
is a split EP by
GO TO THE BEDS
,
PARADISES
and
Kamiya Saki
(who collectively formed
GANG PARADE
), released on April 1st, 2020.
It is considered the debut single of GO TO THE BEDS and PARADISES, the two groups formed from GANG PARADE when the latter group split. It is also the graduation single of Kamiya Saki, who will be leaving GANG PARADE WACK in May.
G/P came with first edition bonuses, depending on where it was ordered:
Loppi, HMV: Random B2 poster.
Rakuten Books: Sticker
Amazon: Decorative LP-style mega jacket.
GP?
Prior to the announcement of GANG PARADE's split, the EP recieved a guerilla CD release as GP?, on March 17th, 2020, minus Kamiya's solo. As the split had not yet been announced, no details or metadata, not even artist credits or song titles, were included with this CD. The hashtag #GPはてな (GP Hatena; GP Question) was used to promote the release.
Tracklist
MAYDAY (GO TO THE BEDS)
ANSWER (GO TO THE BEDS)
Yasashii Kazenifukarete (優しい風に吹かれて; Blowing in the Gentle Wind) (PARADISES)
Kimochiii Kotoshitai! (キモチイイコトシタイ!; I Want To Feel Good!) (PARADISES)
FALL (Kamiya Saki)
Featured Members
GO TO THE BEDS
PARADISES
Solo
Trivia
Haruna Bad Chiiiin is included on this release as a member of PARADISES, however, she left WACK before the split, or the EP was announced.
External Links
Community content is available under
CC-BY-SA
unless otherwise noted.