FOR LiVE -BiSH BEST- is BiSH's first best-of album, released on July 8th, 2020. It was announced on May 27th, the 5-year anniversary of their debut album, Brand-new idol SHiT.
The album was created as a thank you to the live houses and CD stores that have hosted BiSH since their formation. With many of these venues at risk of permanent closure following the COVID-19 state of emergency, all proceeds from the album will be distributed to over 70 live houses across 30 prefectures. The album will also only be available to purchase physically, to encourage fans to support their local CD stores.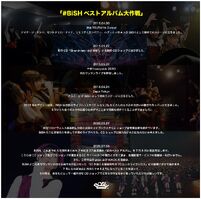 Tracklist
Featured Members
Trivia
The album was announced at the same time as LETTERS.
External Links