FAKE METAL JACKET
Album by BiSH
Release Date

January 20th, 2016

Format

CD

Genre

J-Pop, Rock

Label

SUB TRAX

Album Chronology
Previous

Brand-new idol SHiT
(First indie album)

Next

KiLLER BiSH
(First major album)

Singles from FAKE METAL JACKET
FAKE METAL JACKET is BiSH's second album. It was released on January 20th, 2016. It contains four re-recorded tracks from Brand-new idol SHiT, as well as their single OTNK and eight new tracks.
It is the first album to feature HASHiYASUME ATSUKO and LiNGLiNG, and the last album to feature HUG ME.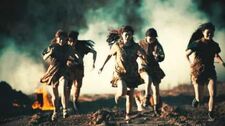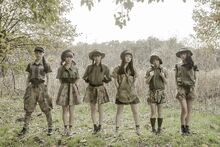 Tracklist
Edit
Spark '16 (スパーク'16)
BiSH -Hoshi ga Matataku Yoru ni-'16 (BiSH -星が瞬く夜に-'16; BiSH: On a Night When Stars are Twinkling)
MONSTERS '16
Primitive
beautiful sa (beautifulさ; Beautifulness)
OTNK '16
Migatte I Need You (身勝手あいにーじゅー; Selfishly I Need You)
Departures (デパーチャーズ)
Want (ウォント)
Saraba Kana '16 (サラバかな'16; Farewell?)
ALL YOU NEED IS LOVE
DEAR...
BUDOKAN ka Moshiku wa TAMANEGI (BUDOKANかもしくはTAMANEGI; Budokan or Onions)
Featured Members
Edit
Album Information
Edit
Primitive
Edit
Music: Iguchi Ichiro
Lyrics: HASHiYASUME ATSUKO & JxSxK
beautiful sa
Edit
Migatte I Need You
Edit
Music: Matsukuma Kenta
Lyrics: HUG ME
Departures
Edit
Music: Matsukuma Kenta
Lyrics: MOMOKO GUMi COMPANY
Music: Matsukuma Kenta
Lyrics: MOMOKO GUMi COMPANY
ALL YOU NEED IS LOVE
Edit
Music: Matsukuma Kenta
Lyrics: BiSH & JxSxK and Matsukuma Kenta
Music: Matsukuma Kenta
Lyrics: MOMOKO GUMi COMPANY
BUDOKAN ka Moshiku wa TAMANEGI
Edit
Music: Matsukuma Kenta
Lyrics: CENT CHiHiRO CHiCCHi & JxSxK