The Sandman Will Keep You Awake - The Loop
Play Sound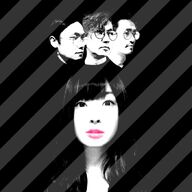 DISCOMPO with Izumi Mari (DISCOMPO with 泉茉里) are a Japanese "online" band formed in May 2020 by ex-Pla2me member Izumi Mari, (M)otocompo members Dr.Usui and Ayaya Junya, and Aprils member Nakama Norihisa.
Members
Izumi Mari (Vocals)
Dr.Usui (Synthesizer)
Junya Junya (絢屋順矢) (Guitar)
Former Members
Nakama Norihisa (名嘉真法久) (VJ) (Left February 2nd, 2022)
History
On May 3rd, 2020, the band (M)otocompo (a continuation of the 1996 band MOTOCOMPO) announced that they would halt their activities after ten years. After members Dr.Usui and Junya Junya discussed the future of (M)otocompo, it was decided that, in Japan's current state of emergency restricting public events, it would be too difficult to continue.
At the same time that (M)otocompo's hiatus was announced, Dr.Usui and Junya Junya announced that they had recruited Izumi Mari as their vocalist and Nakama Norihisa as their VJ, and would form the unit DISCOMPO with Izumi Mari. They broadcasted their debut "welcome ceremony" on May 4th, via the streaming app Zoom.
DISCOMPO with Izumi Mari's first music video, "Boys,Boys, Boys..." was posted on May 5th. Just one day after the release of "Boys,Boys, Boys..." DISCOMPO with Izumi Mari's second music video, "Another Century" was released.
In August, DISCOMPO with Izumi Mari released a short film, "DISCOMPO" on YouTube. The film presented a fictionalized version of Mari's return to music during the coronavirus pandemic. A music video for the film's theme song, "Rinkaku ~ Tanpen Eiga "DISCOMPO" no Theme ~", was released on September 3rd.
On January 1st, 2021, DISCOMPO with Mizumi Mari released their first CD, Shadow Venus / Rinkaku. The songs were released as separate digital singles over three months later. They later held a successful crowdfunding campaign for their next digital single, Merry go ahead, released on October 29th.
Nakama Norihisa left the group on February 3rd, 2022, due to family reasons.
Discography
Singles
Digital Singles
Songs
Other Media
Film