Buzz72+
a.k.a

GRANDSLAM

Years Active

2002-2007, 2020-Present

Origin

Fukuoka

Label

Avex Trax (2005-2007)
SCRAMBLE RECORDS (2020)

Associated Acts
Former Members

Matsukuma Kenta
Inoue Masaharu
Kitajima Norihiro
Takashi Dotoroki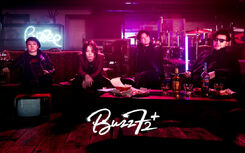 Buzz72+ is a Japanese band. SCRAMBLES founder and WACK producer Matsukuma Kenta is a member of the group.
Matsukuma Kenta (Guitar)
Inoue Masaharu (Vocals)
Kitajuma Norihiro (Bass)
Takashi Dotoroki (Drums)
Buzz72+ was initially formed in Fukuoka in 2002, under the name GRANDSLAM. In 2004, they changed their name to Buzz72+.
In 2005, the band made its major debut with Avex Trax.
Buzz72+ went on indefinite hiatus on December 31st, 2007 following the withdrawal of Inoue Masaharu.
On January 14th, 2020, Matsukuma Kenta announced that Buzz72+ would be reforming to celebrate the 15th anniversary of their major debut. He said that he felt inspired to reform the band after watching the film "Bohemian Rhapsody".
On April 8th, 2020, Buzz72+ released their first recording in over thirteen years, 13. Later that same month, on April 29th, Buzz72+'s comeback show will take place, and will also feature BiSH, PEDRO and MAMESHiBA NO TAiGUN as performers.
At the beginning of September, Buzz72+ collaborated with MUSIC ACTION FUKUOKA, a campaign supporting Fukuoka-based music venues that had been affected by the coronavirus pandemic. Buzz72+ featured on the Matsukuma Kenta-composed song, "Beat goes on", alongside other musicians, tarento and local personalities. BiS member Chantmonkee also featured on the song.
On March 1st, 2020, Buzz72+ announced two new songs, "Sunrise" and "Don't be afraid". Both songs were chosen as theme songs for "HAWKS Pro Baseball Live 2021", the official broadcast of the Fukuoka Softbank Hawks pro-baseball team airing on the channel, Sports Live+. On March 26th, the two songs were released as a digital single.
[2021.03.01] Sunrise (サンライズ)
[2021.03.01] Don't be afraid
Community content is available under
CC-BY-SA
unless otherwise noted.