BiS Kaisan Live ~BiS nari no Budokan~ @Yokohama Arena
Release Date

September 24th, 2014

Genre

Live DVD
BiS Kaisan Live ~BiS nari no Budokan~ @Yokohama Arena (BiS解散LIVE「BiSなりの武道館」@横浜アリーナ; BiS Disbandment Live ~BiS a la Budokan~) is a live concert DVD release of BiS' disbandment concert performed at Yokohama Arena on July 8th, 2014. The name "A La Budokan" is a reference to their initial plan to disband at Nippon Budokan, which was rejected by officials causing them to have to disband at Yokohama Arena instead. During the concert, BiS perform almost their entire discography in reverse order in a three-hour setlist.
This is the final recorded performance of the 1st generation of BiS.
Tracklist
Edit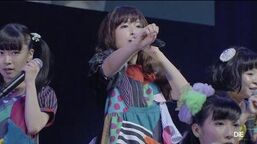 nerve
-OPENING-
FiNAL DANCE
Primal.
nasty face
MMGK
ERROR
Magumato
no regret
STUPiG
ODD FUTURE
Fly
Hi
DiE
MURA-MURA
BiSimulation
Hide out cut
Ano Goro (BiS kyoushuku version)
GET YOU
Demo Sayonara
IDOL is DEAD
ASH
BLEW
urge over kill of love
hitoribochi
I wish I was SpecIaL
CHELSEA
PPCC
Hokoushatengoku no Zattou de Sakendemitakattanda
survival dAnce ~no no cry more~
IDOL
Tofu
primal.
Usagi Planet
YAH YAH YAH
eat it
gugigi
animal
Split Brain Syndrome
Magnolia
My Ixxx
Paprika
Give me your love Zenbu
Thousand Bolt
YELL!!
Taiyou no Jumon
One day
BiS
Let it be
nerve
-ENDROLL-
Featured Members
Edit
Although it is their official disbandment concert and last recorded performance, it is not the original BiS' last performance overall; They performed one last concert the following day as "ex-BiS". In addition, this lineup has since had several reunion performances with the former members' post-BiS projects (BILLIE IDLE®︎, GANG PARADE, Maison book girl, LUI FRONTiC Akabane JAPAN and Tentenko as a soloist).
Community content is available under
CC-BY-SA
unless otherwise noted.